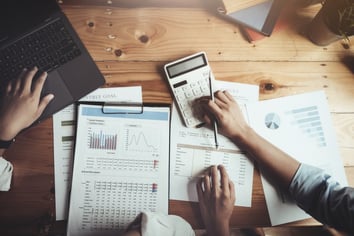 Anyone who has ever been responsible for revenue generation at a professional services firm understands that their revenue model is fundamentally different than a product-based company because they are selling an intangible. And while it is a common misconception that their sales cycles are longer, services companies do face many distinct revenue hurdles that often lead to broken revenue strategies.
What kind of unique revenue challenges do professional service firms have?
How do their revenue strategies differ from other industries?
Can a Chief Revenue Officer (CRO) add value to service firms?
This guide will help you to understand how architecture, accounting, financial planning, engineering, HR, law, and other professional service firms can improve their revenue strategies with the help of a CRO.
Unique Revenue Challenges
1. Staffing
The one challenge that unites all services firms is hefty payroll-related expenses. A Harvard Business Review article on how consultants grow revenue reminds us that
"High-end professional services firms that cater to corporate clients have a clear upside: Because they provide specialized expertise, their offerings can be very lucrative. But there's a less obvious downside: If a consulting firm, say, or a law practice wants to double its revenue, it has to double its staff of consultants or attorneys. Consultancies, law firms, ad agencies, and other professional services firms struggle to nudge their gross margins above 40% as they achieve scale."
Growth requires a significant investment in human capital and sustainable revenue requires retaining both customers and the highly skilled employees that service them.
2. "No Salespeople"
While the need for many highly qualified, licensed staff can be a barrier, the biggest challenge is actually how employees view themselves.
If you ask a group of accountants, lawyers, wealth managers, or other professional service providers how they "sell" their services, they will clam up. Service providers do not view themselves as salespeople. Instead, they envision themselves more altruistically as professionals with a specialized expertise that they can use to help others.
Asking them to "sell more" or "market their offerings" to generate additional revenue is the wrong approach because they do not believe these skills are in their wheelhouse. However, Daniel H. Pink reminds us in his book To Sell Is Human that if you have ever had to convince someone to do something (as all of us have throughout our lives) that is, in fact, selling. Which means that these people are, indeed, salespeople.
3. Disparate Revenue Strategy
Even if a services firm has someone overseeing marketing, each partner will likely be required to create their own book of business.
As previously mentioned, these types of professionals do not see themselves as salespeople, nor do they see the value in honing their selling skills, which results in a spotty revenue strategy (especially when the firm does not care how you bring in clients as long as you hit your number). With everyone working individually there is no framework in place to leverage available skillsets to help the business grow effectively. Furthermore, each person bringing on business differently results in a patchwork revenue strategy that may drive short-term business but will not generate the kind of cohesive revenue strategy that makes the company future-proof over the long term. This sales process is broken because the entire approach is wrong.
Owning Revenue
Once a services firm gets big enough, they will recognize the need for a business developer, who will oversee forging the relationships that can bring in new accounts. Meanwhile, the person in charge of marketing will be responsible for branding, positioning the company's offerings, and creating collateral needed to supply to clients.
Without a CRO the CEO or Managing Director at the top of the firm will be responsible for pulling together the threads of business development and marketing to create a cohesive, unified revenue strategy.
However, the professional heading up the organization is just that – an experienced professional in their industry. And just because someone is accomplished in finance, law, or another specialty that does not mean they have the skillset and big-picture view needed to oversee marketing and sales to drive revenue. Instead, they are focused on their profession and doing their work to the very best of their ability. The leaders of professional services firms are concerned with customer retention, controlling internal expenses, meeting deadlines, and so forth but they are often too deep in the trenches to look for new revenue channels or generate new revenue initiatives across different audiences or geographies.
When a CEO or Managing Director realizes their own professional limitations and understands that they could be doing a more effective job if someone was brought in to do things that are outside of their core skillset, they will bring in a CRO to oversee strategic revenue growth planning.
Adding a CRO
When it comes to professional services, pricing is very personal because the cost of a service places a value judgment on the worth of a person's contribution. As such, a professional is not going to let the head of marketing or business development tell them how to price their services. However, they will likely follow the market-driven advice of a seasoned CRO because this person has the big picture perspective that can get the most out of the firm's potential.
In addition to a greater likelihood of organizational buy-in, a CRO will be better poised to examine current revenue streams and explore new revenue streams. As a result, a professional services firm can expect that their revenue will grow dramatically after hiring a CRO because they will have a revenue-centric approach that includes:
Implementing the right processes and plans internally and externally to attract new clients
Creating a sales pipeline to acquire, expand, and renew service usage
Enhancing the customer experience
Improving marketing efforts
Furthermore, hiring a CRO will free up the CEO of a services company to focus on the professional aspects of developing their firm, such as recruiting associates to bring them up the ladder to become partners and developing their clients. Alleviating the pressure of inconsistent revenue generation is a key contribution a CRO makes in a professional services firm environment.
For more information on the impact Chief Revenue Officers can have on business growth, check out these additional resources:
Understanding Revenue Operations (RevOps)
How to Rebound After a Downturn
Getting Back to In-Person Sales