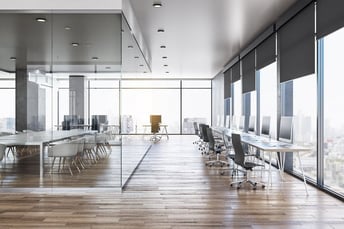 In 2020, B2B sales abruptly transitioned from a face-to-face game of relationship-building to a digital game that aimed to do the same. Sales representatives traded long drives and flights for their home offices as companies nationwide closed themselves off to non-essential personnel. Video conferencing and email became the new standard as processes and systems shifted. However, the need to develop and build relationships never faltered.
Now, as companies look toward the future, they need to make difficult decisions about when to move employees back into the office, while considering the needs of both their employees and their clients. The other big issue facing employers is the variety of protocols that will need to continue and be enhanced to bring people back in safely while accounting for the fact that not everyone is planning on getting the vaccine. Ultimately, control of COVID-19 and the rate of vaccination is going to affect the speed with which we return to the workplace.
The timeframe on this decision will be heavily influenced by industry segment. Companies that have an internal focus and can work in a bubble likely have not stopped going into the office, at least to some degree. For example, manufacturers never stopped going into the plant, instead they implemented strict protocols to keep their workforce safe and on the job. However, externally focused companies, like professional services firms, started going back into the office since the first of the year, but are not interacting with clients yet. Meeting with clients and partners is still being done virtually in these settings. Most other companies will likely be back by this fall, all things equal, but not in the same way as before.
Many organizations will implement a hybrid work model where employees are in the office a 2-3 days per week and working remotely for the remainder of the week. Manufacturers will also start opening their offices back up to outsiders along this same timeframe. However, whenever employees do finally return to the office, it is going to look different and feel different than before.
Understanding Attitudes Towards Returning
How do salespeople feel about coming back into the office?
The sentiment around returning to an office setting is less polarizing than might have been anticipated last year. The people who are comfortable working remotely do not care too much about where they work if the setting is safe. While they likely prefer the efficiency of working remotely, they largely are not opposed to coming back in as part of a hybrid work model. These adaptable employees are just going to keep doing their best work regardless of where that work is happening. However, the people who never got comfortable with remote sales work are excited about the idea of not only going back into the office but also going into other people's offices.
Anticipating Friction
Regardless of what your office setting looks like, as employees come back into the office friction is going to occur on virtually every level of the organization.
Internally, the high-level strategic viewpoint of the CEO or CRO (Chief Revenue Officer) may cause friction with what a salesperson is comfortable with and wants to get back to doing. There will likely be more friction between sales and marketing as well because salespeople may want to revert to their traditional approaches while marketing has been forced to enhance their work to adapt to all the changes of the past year with their campaigns and lead generation programs.
Externally, salespeople and customers may also have friction because some salespeople want to go out in the field, but customers might not want people coming into their offices. Alternatively, customers may want salespeople paying them visits, but the salesperson for their area might not feel comfortable doing so any longer. If you are in outside sales, the friction is likely coming at you from all directions.
Easing into the Transition
Employers must recognize that their employees and their customers have fears, and they must address them with transparency and flexibility.
To ease employees' transition back into the office, employers need to be very upfront and honest about their expectations. Employers should be as transparent as possible and have a precautionary statement that they share with employees and customers. And once this statement is developed, it must be adopted by everyone. All employees need to be on board and align around the vision of what their post-pandemic workplace is going to look like.
As work moves back into the office employees must feel comfortable communicating with their employers about what they are seeing in their day-to-day jobs. Employers should then continue to adapt to address the feedback that they are getting from employees and customers, taking any concerns that arise very seriously.
Adapting Sales Methodologies
The pandemic made a decade-worth of widescale digital adoption occur in just a year. This sudden leap pushed us forward at lightning speed and now companies will need to leverage that shift to succeed post-pandemic.
Today clients are enjoying digital everything – remote communications, self-service purchases, and strictly online support – so they are not going to want to go back to the old methodologies. Data shows that B2B customers want to continue to rely on digital sales and support approaches for greater convenience, and salespeople will need to adapt to these new buyer habits and expectations.
There is good news about "digital everything" for sales teams. Anything that has been put into place over the last year makes salespeople more efficient – freeing up their time to for the things that technology cannot do (like writing articles, participating in a community, and holding events). Salespeople must now find ways to leverage those tools and processes to accomplish more and give customers more of what they want.
While complex and customized products will still need an in-person sales strategy, B2B buyers overwhelmingly prefer digital methodologies for standard product offerings. As a result, sales teams will need to include these new tools and approaches to meld them with their previously successful strategies.
Managing Change
Chief Revenue Officers (CROs) and those at the top of sales leadership will be responsible for managing this sales strategy change. They are responsible for the bigger picture, which puts them in the best position to determine how to combine the old with the new. Unlike salespeople and team managers, who just see their little slice of the business, the CRO has the entire sales strategy overview under their purview. CROs will have to assess current business trends and analyze their customer base and buyer's journey to determine which strategies will resonate best with their market.
Today's unique challenges require a professional with significant sales and marketing experience, overseeing both to generate profitable revenue growth. To get you started on this process download the Revenue Development Action Plan. Pay particular attention to these foundational questions:
Question 11. Who are your company's ideal clients? Who are they, where are they, what motivates them to buy, when do they buy, why do they buy, how do they buy? For help use the Resultist Ideal Client Persona Worksheet.
Question 12. What is your company's Sales Process? Is it defined? Documented? Communicated? Does everyone who is client facing speak the same language? Understand the sales funnel? To thrive in a time of crisis, updating your sales processes to match how, when, and why your customers buy from you today is essential. See FQ 16 for more.
Question 14. What is your company's Marketing Strategy? How do you create Brand awareness? Generate leads? Create demand?
Question 16. How and when do your customers buy from you? In a time of crisis, it's likely that their journey, from discovering a need to purchasing the solution, has changed. What does that journey look like now?
Now more than ever before a defined Chief Revenue Officer role is needed to align sales and marketing teams around a comprehensive vision that incorporates new strategies and challenges. Between the rapid changes and market shifts that occurred last year and the new workplace challenges that sales teams will be facing this year, someone will need to oversee the entire revenue picture to keep the organization on track.