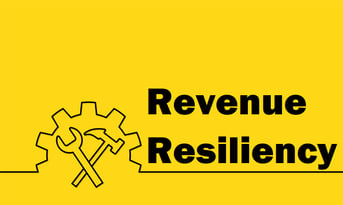 "The ability to withstand unpredictable threat or change and then to emerge stronger."
This is how the team at McKinsey & Company defines resilience in their recently published an article on what they call The Resilience Imperative. They elaborate further that resilience is going to be more important in the coming decade than ever before when they explain, "Catastrophic events will grow more frequent but less predictable. They will unfold faster but in more varied ways. Disruption is becoming more frequent and more severe."
Resilience can be financial, operational, technological, organizational, or reputational in nature but the greatest resiliency comes when an organization can anticipate and respond to threats across all categories to dynamically adapt as needed. Obviously, this kind of resiliency does not just fall into place – it is the result of careful planning to develop a revenue resiliency toolkit.
This toolkit will help you to answer the following questions with respect to resiliency:
"Where are you now?" "Where do you want to go?" "How will you get there?" And most importantly, "What will you do when the unexpected happens along the way?"
The result is an operational roadmap to overcome any barrier, threat, or disruption no matter how sudden.
Assessment
The first step in the process is determining how resilient your organization's revenue readiness is currently. Look for weaknesses and you assess your current position across the following areas:
Company values
Brand promise
Reputation
Unique sales position (USP)
Capital position
Liquidity
Available capacity
Sales process and tools
Marketing strategy
Supply chain
Distribution networks
Digital footprint
Technological infrastructure
Cyber security
Data integrity
Disaster-recovery and data backups
Regulatory compliance
Employee hiring, training, and re-training
External communications
Geographic operating region
Diversity of client base
Business model adjacencies
Your current contingency planning will serve as the basis for more robust resiliency planning efforts as you work to anticipate future threats. Moving forward, use not only "what if" scenarios but also past disruptions to fill in resiliency gaps and identify revenue drivers, understanding that future threats will likely not be single-variable events like a cyber attack or natural disaster, but rather a multi-variate event like a geopolitical conflict with supply chain implications and a global market slump.
Response
The depth of an organization's resiliency lies in the strength of its preparation for and response to an adverse event.
Brand
Articulate your brand promise and unique sales position (USP) in a way that builds resiliency into the very heart of both. Clearly define what makes your business special, integrating your company values independent of external factors like distribution channels, targeted audience, or operating area. Lean on this core identity and reputation even in the face of adversity (especially in the face of adversity!) to serve as a compass when the company needs to bend to withstand stressors and challenges. Identify business model adjacencies that are in keeping with this identity to serve as revenue levers if your current business strategy needs to be amended.
Finances
Analyze your current and planned expenses and spend strategically to preserve liquidity – balancing short-term and long-term needs. Bring in investors and take out loans as needed to maintain a strong financial position, poising the company for a variety of future scenarios, which could include selling the business outright or divesting a portion of it.
Sales and Marketing
As Jack Welch famously said, "Change before you have to." Align your sales and marketing plans to more effectively generate and close leads in way that is congruous with your overall revenue goals. Integrate the tools needed to keep revenue-focused teams collaborating and communicating wherever they are located before a disruption occurs to avoid a situation where you are trying to implement these during unfavorable circumstances. Understand how your marketing strategy will need to shift to stay in front of your key demographic as external factors affect where this audience is going and what they are doing. Additionally, diversify your customer base to protect against audience shift. Look at your digital footprint to analyze how it will need to evolve when the market changes – moving to different platforms or shifting your engagement strategy to support different areas of the business (for instance, moving from brand awareness and lead generation to providing customer support).
Capacity
Utilize available capacity to get more out of your existing assets and prevent waste. Determine where staff scheduling and training needs to be modified to utilize this capacity, expanding training for new hires or retraining employees in other areas where needed. Play to employees' strengths, utilizing people where they can best contribute to revenue growth as the company pivots to deal with disruptions and disasters. Understand where you will need to hire or shift employees to overcome business obstacles as offerings, distribution channels, and geographic market presence change. When business changes lead to regulatory or compliance needs, be prepared to handle those added responsibilities in advance as well.
Technology
Bolster your technology infrastructure to deal with a variety of threats ranging from cyber-attacks to natural disasters. Back everything up to the cloud and load test to ensure that operations will be able to continue if there is an influx of calls, emails, help tickets, site visits, and other user-driven actions. Utilize firewalls, VPNs, and regular threat assessments to stay current with cyber security best practices. Ensure that in the event of a disaster or disruption, you will be able to recover data and other vital information. Business continuity is key!
Supply Chain and Distribution
Examine where your supply chain should be reinforced, or redundancy should be built in, to keep critical materials and supplies available while balancing the cost of doing so with the risk of not. Similarly, examine your current distribution channels and networks and determine how you will get products to customers if those are impeded in some way.
Practical Examples
Example 1.
One of the most common questions I get is "How do I get my products/services/self in front of the right people?"
Whether a company is just starting out or is pivoting their revenue plan in response to a disruption, this is one of the most foundational questions they will ask. The answer is knowing your audience – Where are they? What are they looking for? What kind of problems do they have that they need to solve? What are their hesitancies or objections? Who else are they talking to? What are their goals and aspirations? What is their budget? What is most valuable to them?
Assessing your current position as it relates to being able to serve your key demographic will help you identify ways that you can respond when the market shifts or an external event occurs. This resiliency will allow you to serve your audience in the best way possible no matter what kind of disruption arises
Example 2.
2020 and 2021 ushered in a whole new set of leadership challenges as management was tasked with enabling remote workers to continue to collaborate to achieve business goals. And while practical questions like "How do we keep people talking and staying focused and doing their best work?" took center stage, many other questions rattled around organizations as well.
For many companies, knowing how to deal with complex topics like spend management, performance assessment, and an inclusive company culture cropped up as well. In many instances these were unexpected challenges because organizations had not created the resiliency framework needed to ground them as they made these kinds of sweeping changes. As you make contingency plans, do not forget to plan for the "softer" byproducts of change like job satisfaction internally and externally, the impacts on company culture and brand sentiment.
Example 3.
The last decade has ushered in dramatic changes to the way organizations do business. The need to align sales, marketing, and customer service across all channels has gotten more difficult than ever before.
A "revenue operations" approach brings together online and offline marketing, selling, and support by ensuring that all initiatives directly contribute to the process of generating and growing revenue. By optimizing on the people, processes, and technology within an organization, revenue operations methodology unites these core components around the same business goals to better support each other. As a result, this kind of strategic approach is the best solution for dealing with business disruptions because it has the built-in resiliency to flourish in a rapidly changing environment.
For more information on how to improve your resiliency, download the comprehensive Revenue Development Action Plan. Answer the assessment questions included within the plan to evaluate your current business position and adjust your plan to ensure success.