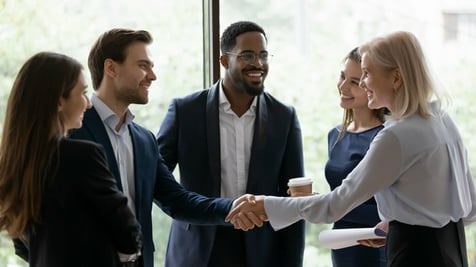 Some sales teams have it. And some don't. What makes some B2B sales teams great? In working with B2B sales teams for 25 years, I have discovered that there are three key qualities that set high-performing sales teams apart – the right goals structure, authentic camaraderie, and a foundation of trust.
Whether your sales team is consistently exceeding expectations, plateauing at meeting but not exceeding goals, or underperforming relative to their targets, there is always room for improvement. Of course, like anything else in business, increasing B2B sales performance requires both managerial support and individual initiative. Let's talk about how sales managers can get more out of their team and retain their best salespeople as well as how B2B salespeople can sell better.
The 3 Keys to B2B Sales Success
A colleague recently asked me, "What is the one thing that every high-performing sales team has?" Unfortunately, I had to tell her that there's not one single secret to sales success. But I was able to narrow it down to three key elements:
Utilize Team Goals
The best B2B sales leaders do not simply create individual goals for their salespeople. They also utilize team goals to incentivize their sales team to think of themselves as one team and work together. These shared goals encourage salespeople to help each other (or at least do not punish them for doing so), fostering a sense of camaraderie.
Foster Camaraderie
While salespeople are competitive by nature, shared goals as well as other investments in the team culture help to build bonds and form authentic connections. The more closely connected a sales team is, the more they will support each other and help to bring out the best in each other in the work that they are doing, improving performance and retention.
Build Trust
Camaraderie builds trust, which is crucial because in sales trust plays an integral role at all levels. Customers need to be able to trust salespeople to feel comfortable buying what they are selling, and the sales team needs to be able to trust management to feel secure in their role. Of course, trust goes both ways internally because sales leadership must be able to trust their team as well. Trust is the glue that holds the entire "sales house" together.
Improving B2B Team Sales Performance
To get or keep a sales team moving in the right direction, sales leadership must foster communication across the board, utilize an effective compensation strategy, invest in training their team, and work to keep top salespeople.
Stay in Communication
With so many people working remotely, there is constant pressure to communicate well with salespeople who are not in the office. And while this is certainly important, it shouldn't end there. Salespeople who are in the office need the same level of communication! Sales leadership should be regularly communicating with everyone on their team.
Not only does this keep everyone on the same page, but it also helps managers to get to know their team better. Sales leaders need to know what kind of salespeople they have so that they can ensure that the company's compensation structure aligns with the team's goals and values as well as provide individual salespeople with the resources they need to thrive.
Choose the Right Compensation Strategy
It is crucial for sales managers to understand which types of salespeople they have so that they can develop a compensation plan that fits them. In every organization there are three kinds of salespeople: rock stars, core performers, and laggards. As the names would imply, rock stars are top performers that always crush their sales goals, core performers consistently hit their sales goals, and laggards are the lowest performers due to a lack of skill or motivation (this group also includes new salespeople). The most effective compensation models will reward rock stars, leverage core performers, and motivate laggards, depending on business goals.
The process of getting to know them will start with the interviewing process as hiring managers assess not only their experience but also their internal motivation and begin to analyze what they might need to be successful in the role. After a salesperson is hired if they have a probationary period this offers even more time for their manager to get to know them and be able to learn more about who they are professionally as well as personally. Once this period is over, sales managers will want to continue to develop knowledge around who they are and how they sell to ensure that the company is supporting them in a way that is mutually beneficial. A winning compensation plan will reduce sales team turnover to drive business growth.
Prioritize Training
Sales training and product training are essential for a sales team to be successful. Both should be done at least once a year, preferably in-house for the best results (otherwise sales teams may use it as an excuse for a vacation). Sales training must have a long-term view and remain in alignment with that view year after year to be effective. Ideally, it will have the same foundation and be tiered to offer different levels of training for different experience levels.
Aim to Keep Top Salespeople
The best way to keep top performers is to eliminate caps on earnings. If a sales manager has rock stars or core performers that are constantly hitting their goals but then they stop and do not sell any more, it's probably because they aren't going to earn any more if they do. Removing earnings caps encourages salespeople to keep converting leads into sales, generating revenue that would otherwise have been missed.
How to Sell Better in B2B
Of course, having the right sales team infrastructure in place and managing a sales team well does not mean much if salespeople are not selling. The best ways for salespeople to sell more effectively are to truly understand their audience and see things through their buyer's eyes.
Know Your Audience
The first rule of sales is: know your audience. You can't sell anything to anyone if you don't know your audience. Whether your buyer is an individual or an entire team, you need to know what they want and what motivates them.
These days there are more resources than ever to get to know your audience. At the macro-level, salespeople can learn more about a company from places like the Secretary of State, Dunn & Bradstreet, and Reuters (if it is a large company) or the company's website or LinkedIn (if it is a smaller company). Sales teams also have extensive data around an individual lead's engagement. A salesperson can see which pages a prospective buyer visited and how long they stayed, which resources they downloaded, which emails they opened, which links they clicked on, and so forth. This all offers additional perspective so that a salesperson can work to cultivate a relationship.
Put Yourself in Your Customer's Shoes
Salespeople that look at the purchase process through the eyes of a buyer will be more effective. They will understand what kind of support their customer needs, when, and in which order to be able to provide them with timely resources. They will understand what kind of significance the purchase has for their buyer so that they can make them look better within their own organization. Lastly, they will understand what the purchase process looks like so that they can provide the requisites needed to get a decision-maker's approval.
Fixing Sales Team Underperformance
How do you fix an underperforming sales team? The key is to identify the symptom(s) and determine what the deeper problem may be as soon as possible. Getting to the root of the issue will allow you to understand whether it is a people problem or a system problem. Often, it's not just one thing, it's a combination of things that have come together to create the problem you are seeing. If you cannot figure out what the underlying cause is, go to your manager. If your manager cannot figure it out either, bring in a consultant to analyze the situation and offer a solution. The more quickly the problem can be addressed, the better the business outcome will be!
When you need help with your B2B sales strategy, reach out to me! Contact me today to find out how I can help you get more out of your sales team. I help B2B organizations build sound business strategies that generate sustainable, profitable revenue. Learn more about how we can work together to develop a better revenue strategy to achieve your goals.