Strategy ideas are in abundant supply. Any and all may appear attractive and anyone with an active imagination can easily see the possibilities, but "possible" should not be confused with "probable". Entrepreneurs (and intrapreneurs) with "irrational optimism" are eager to take action on the possibilities and leap without a parachute --- to fly or land with a splat.
Strategies vs rocket science
Some say identifying the right strategy to get a message to the right person at the right time is more difficult than rocket science. It can seem virtually impossible to increase profitable sales let alone boost visibility and get more conversions. There is an obvious need to improve visibility to drastically improve sales, but this requires an investment (time and money). It is not magical or automatic.
It is possible for the right strategy to deliver remarkable profitable revenue growth but only with sound business fundamentals, authentic relationships, a commitment to adding value.
Strategy dabble
Limited time, money and resources may have you trying to spread what little you have on too many strategies. A little activity here, a little there… is the "strategy dabble". The "strategy dabble" happens wherever there seems to be an opportunity or a hot iron in the fire that inspires someone to jump up and do that! This approach is very expensive, tiring and wasteful. With each person on the team 'going for the hot iron', the mystery of who does what remains.
Blurring definitions
Often strategy, tactics, and mechanisms are blurred together. Email marketing can be a strategy, a tactic, and is also a mechanism. Language fails us as humans take shortcuts with expression.
Keeping in mind there is no 'magic marketing strategy' and definition of terms can blur, here is a menu of marketing strategies to keep close at hand. Be sure to corral your imagination as you consider the possibilities.
Here is a summary list:
Get employees involved
Email Marketing
Content Marketing
Inbound Marketing
User generated content
Help customers solve a problem
Focus on existing customers
Referral Programs
Networking Events
Join Local Business Groups
Partner with allies (aka strategic collaborations)
Search Engine Optimization
Webinars
LinkedIn
Speak at Events
Create video tutorials
Create an affiliate program
Collaborate with influencers
Encourage customer interaction
Experiment with new channels and platforms
Fun, fun, fun
Be Weird (just a little, or a lot!)
Target customers via big data
Connect in the dirt world
Everything nostalgia
Tell a story across multiple medias
"Earned" Media and PR (aka get noticed, free)
Search Engine Marketing
Retargeting
Social Media Marketing
Facebook Advertising
Google My Business
Google Adwords
Coupon Deal Sites
Niche Print Advertisement
Write Columns
Direct Mail Marketing (snail mail)
Here is your strategy menu:
Get employees involved (Even offer staff incentives)
Employees can be your best advocates. If they are not fans and ambassadors already? This should be a concern. In the new world of media, each employee offers more than just doing work as a cog. Who better to get referrals than your staff? Your employees should know your products or services, and how they are best used. Some employees make recommendations because they love spreading the benefits. Even so, an incentive program to your staff members who refer new clients could be a big plus.
Email Marketing
Email marketing remains at the center of digital marketing. Most website visitors won't be ready to buy immediately. Creating an opportunity for visitors to share their contact info and give permission for you to send them more educational/promotional materials, your business can stay top of mind.
It starts with what some refer to as a "lead magnet", a compelling offer they can get if they introduce themselves with a name and email address. Examples of a "lead magnet" are a digital download, free trial, discount, exclusive report, sample, webinar, site membership, calculator, checklist, etc.
On the surface, email marketing seems simple and straightforward. A powerful email strategy will rely heavily on an accurate database, a monitoring system to track activity and workflows to deliver relevant emails based on interest/activity segmentation.
Content Marketing
Education is the priority with content marketing. The goal is not to create a sales pitch, it is to help the potential buyers have a better understanding by creating and distributing content relevant to prospects' needs. Content can be in many forms: infographics, webpages, podcasts, videos, blogs, white papers, webinars and eBooks.
Content marketing is often confused with inbound marketing. Content marketing is a component in an inbound marketing strategy. Content marketing is effective because it grows brand visibility, credibility and desirability while engaging the target market with relevant information.
Inbound Marketing
Inbound marketing is considered an effective B2B strategy because it leverages the strengths of other strategies to attract attention, convert strangers to leads, close deals and turn customers into advocates.
Unlike traditional marketing methods, inbound marketing earns attention by producing meaningful content with timely, relevant information. Inbound marketing extends invitations vs. interrupting with advertising. Inbound marketing works for businesses of any size or type, improves prospects knowledge, can be easily integrated and managed using a CRM system.
User generated content
According to a survey of 839 Millennials, they spend "5.4 hours a day with content created by their peers. This represents 30 percent of their total media time and is rivaled only by all traditional media types combined (print, radio, and television, at 33 percent)." The survey also reported: "Millennials reported that UGC is 20 percent more influential on their purchase decisions than other media."
In mid-2017, Search Engine Journal claimed, "Online ratings and reviews are a form of word of mouth, which is the most trusted source consumers consult before buying."
Creating an opportunity for users to generate content can be seen on LinkedIn Pulse, Medium, Puget Sound Business Journal Leadership Trust, or Quora. Another example is Sport Chek. They ran a photo contest, where participants could submit a photo of themselves skiing or snowboarding for their chance at winning a once-in-a-lifetime prize. This type of website offers users the ability to generate content, each with a different method and flavor.
User generated content (UCG) can happen by hand-holding at every step or automated with platforms. G2Crowd has a list of software here.
Help customers solve a problem
"You are in business because you provide solutions." With a mindset of "service before the transaction", you can help customers solve a problem by: Creating how-to content; providing exclusive information to make business their business better; staying open to issues they have (via multiple platforms) and responding with a sense of urgency, create apps or tools that support their business.
Focus on existing customers
Use the "upside-down funnel" approach. This could include making customers feel like they're part of an exclusive club, giving them something extra, and making them feel like VIPs. Give your customers more than what they pay for, even if they haven't paid for anything yet. "Surprise them by giving them more all the time. And don't ask for anything in return. If you're really generous towards your customers, they'll return the favor without you needing to ask for it." – Belle Beth Cooper
Referral Programs
A referral program is a systematic approach to incentivize people to tell others about their products or services. Implementing specific referral programs and partner programs offers the credibility of existing customers to grow a customer base. Referral programs leverage the recommendations of happy customers and recognize authentic customer loyalty. HubSpot offers a how-to guide for creating referral programs you can reference here.
Networking Events
Trade shows remain a top B2B networking tool. Companies within a specific industry gather at a location to demonstrate products and services. Trade shows help companies establish or strengthen relationships with key industry partners, customers and prospects. Typically, trade shows offer educational workshops for attendees to keep up with market trends and get insights about the competition. Networking events encourage face-to-face interactions and relationship building, help to connect with a specific target group for lead generation, and allows businesses of any size to access the same audience and information.
Join Local Business Groups
Meet other like-minded people who already share common ground with you. There are many types of groups which can be more general to niche-specific groups and meetups. Local business groups can be a priceless resource where you can bounce ideas around, get referrals, recruit, and identify new opportunities. As you grow your participation, so can your network. Groups are often found online but the real power happens in-person at meetups and events.
Partner with allies (aka strategic collaborations)
Marketing "partnerships" can accelerate results in a big way. When you collaborate with another business, there is a tendency to deliver better content. Marketing "partnerships" are less expensive to both parties to establish. You can see success more quickly and expose your brand to a new audience.
Teamwork is always more effective than singular effort and combining resources with another business can help you do things you could never accomplish on your own.
It's typically best to target companies in your local area, even if your clientele isn't local. Your goal is to work out a complementary arrangement that provides mutual benefit for both businesses.
NOTE: These partnerships are handshake collaborations. They do not qualify as a legal partnership.
Search Engine Optimization
Search engine optimization, aka SEO, is hyped and sold by "anyone" with a computer. SEO is a process of increasing awareness and traffic to a website by ranking in the top unpaid (organic) search results on Google, Bing! and Yahoo.
Social media, email, banner ads and other marketing vehicles generate website traffic, but people use search engines to find answers, solve problems and feed their hunger for your product or service. Search Engine Optimization continues to evolve to meet the changing user habits with mobile and local search trends.
Webinars
A webinar is an event held on the internet which is attended exclusively by an online audience. This distinguishes it from a webcast, which also includes the presence of a physical audience. Other terms people use instead of webinar are web event, online seminar, webcast, web lecture and virtual event.
Webinars can be a presentation, demonstration or discussion. They are often used to grow lists or build credibility. Webinars are not limited to a one-time-event. They can be recorded and used as a standalone product or a series of products.
LinkedIn
Social media could be a core method for more effective of B2B marketing. LinkedIn has a reputation for being the most powerful tool for B2B content marketing. Whether talking about challenges or telling stories, there is a potential to go viral.
A LinkedIn strategy will include content, connection, videos, offers, outreach (warm-calling), networking and even a little SEO.
Speak at Events
Aka "Standing-on-Stage / SOS" – If it is important to establish yourself as an authority, speaking at events, being on panels, or even speaking at online events can have a huge impact.
Invitations to speak at larger events don't roll in until after special accomplishments or an impression of influence. Everyone starts somewhere and smaller events have been the stepping stone to larger by many.
Create video tutorials
Video tutorials are one of the most effective ways to not only get attention for your business, they prove your character and expertise. By taking customers and prospects through problem solving step-by-step, they become believers and are inspired to share. YouTube is the go-to website for learning. Tutorials are not the only way to go, 7-year old Ryan has over 18 million subscribers and 27 billion views on his YouTube Ryan ToysReview channel.
Create an affiliate program
Affiliate marketing remains a mystery to most, though affiliates can provide enormous opportunities for growth. Creating an affiliate program is a challenge because of it can be difficult to connect with the right "partners". It is imperative to show a history of conversion success to attract affiliates with large lists. The products or services must be excellent with rave reviews and the purchase process easy to customers. It is not just based on product quality that affiliates motivate people to participate, it is the successful sales funnel that brings in the money.
Collaborate with influencers
Influencers are over-hyped, and you will often hear "How to use influencers…. " Influencers are aware they are a target and already distrusting of those who approach them. Regardless, collaborating with the top influencers in your industry remains an excellent way to build a new audience and extend brand awareness. Collaborating comes in many shapes and forms. Be ready to think outside the box to create a win-win-win.
Encourage customer interaction
Regardless of the type of product or service your company offers, your customers appreciate some type interaction with your company and possibly with other customers. A well-known example is how American Express connects small-business owners to each other and helpful resources through its OPEN Forum.
Experiment with new channels and platforms
Make it a goal to add new channels and platforms to promote your company and products. Every year new channels and platforms are invented; new apps, software, technology, A.I., and disruptive technology. Take a look at these examples of disruptive technology.
Fun, fun, fun
You probably never heard of Dollar Shave Club until the company released that humorous YouTube video. The company continues to have its way with the shaving industry. There are no limits (except your own discomfort). Jeff Bullas gives fifteen examples of fun approaches here. This may appear risky since fun to one is sad to another. GEICO changed the market with their fun commercials and the industry now competes with 'fun' vs facts.
Be a little weird
You may have people on the team who are more interested in their ego than your customer's response. They may want to play it safe and bypass this strategy. Since "weird" is subjective, you may already be a little weird and not realize it.
In 1999, textbook rental company Half.com convinced the town of Halfway, Oregon to rename its city -- to Half.com. Shortly after the town of 300 unveiled signs promoting the Internet startup's name, eBay purchased half.com for $300 million.
When Grasshopper.com changed their company name, they mailed out chocolate grasshoppers to customers. (Truly scrumptious and delicious.)
FM 96.3, a small radio station in Glasgow, Scotland wanted to expand its audience. With just a few bucks and lots of creativity, they came up with the perfect idea: an air guitar giveaway. The station placed empty guitar racks throughout the city.
The hook? Each rack had a sign that read: "Free Air Guitar. Take One."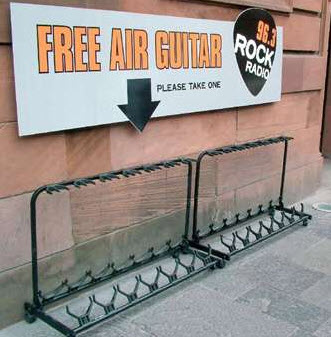 Use big data to target customers
Big data is now helping retailers target specific customers.
A hotel uses cancelled flight information to be aware of travelers in need and make a special offer.
A pizza chain uses data to send out coupons to customers who are experiencing bad weather or power outages.
There are websites such as Statista.com that focus on delivering data trends (and hopefully predict them.) With the right type of information, it becomes very apparent when customers need your products or services. Marketing dollars can get very efficient given the right type of data.
Connect in the dirt world
Look at the most successful companies, they have the ability to create a synergy between the offline world, and online. By connecting offline, it is still possible to create a buzz surrounding your product or service.
Hire an artist to paint a mural or hire a portable billboard LED truck.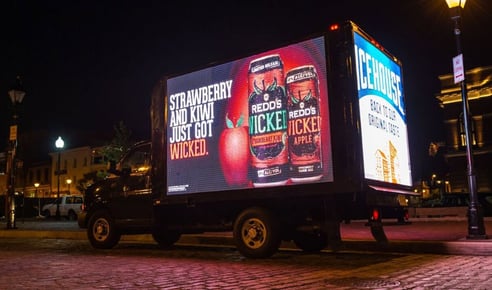 When attending networking events, don't just show up. Be ready to astound the attendees.
Nostalgia
A study from Journal of Consumer Research showed "people who were asked to think about the past were willing to pay more for products than those who were asked to think about new or future memories; another experiment showed an increased willingness to give more money to others after recalling a nostalgic event." That's why brands have launched campaigns that take Millennials back to the 'old days.'
Tell a story across multiple medias
Storytelling is one of the most effective methods in marketing. As an example, Eye­wear retailer Warby Parker tells their story. It was founded as a rebellious upstart to tackle the problem of expensive eyewear after one of its founders lost his glasses on a backpacking trip and couldn't afford to replace them as a grad student. What's more, like Toms, Warby Parker partners with nonprofits such as VisionSpring to distribute a pair of glasses to someone in need for each pair sold.
Warby Parker says it has distributed over one million pairs of glasses and has trained over 18,000 men and women to give basic eye exams and bring glasses to their communities with VisionSpring.
In the new world of media, tell the story in many ways.
Earned Media and PR
Also known as "free media", earned media and PR is publicity created because of 'remarkable' vs paid advertising.
This could be via social media testimonials, word of mouth, a television or radio mention, a newspaper article or editorial, or a blog article review. Earned media can only be gained organically. There are no pitches, contacts to make or stalking. You can't buy it in the way you buy traditional advertising. Since earned media and PR are unsolicited it perceived as authentic and credible.
Search Engine Marketing
Search engine marketing is often confused with SEO (Search Engine Optimization) or SMM (Social Media Marketing). SEM grows website traffic through paid online advertising with pay-per-click (PPC) links as probably the most common form. You buy (or sponsor) a link in search engine results when keywords related to your product or service are searched. Each time the advertisement is clicked, you pay a fee. Search Engine Marketing can be focused based on interests and adaptable to multiple markets and audiences.
Retargeting
Retargeting uses browser cookie-based technology to identify users who visited your website. The cookie allows for targeted advertisements to appear as they visit other pages on the Internet even if they're not related to your site specifically. You might have seen these advertisements "following you". Retargeting can be effective because it gets your brand in front of people who already showed an interest. Retargeting recaptures prospects' attention and generates high click-through rates. Retargeting works best for higher volume sales.
Social Media Marketing
Provide people with valuable (and relevant) content, they will be compelled to share on their social networks. The result is an increase in visibility and traffic. Sharing videos and images via social media can also influence SEO results since they are using specific terms and phrases when searching platforms such as Facebook, Twitter, LinkedIn, YouTube and Instagram. Social Media Marketing (SMM) can give your company additional marketplace insights more quickly and can build authority with social proof. Many customers are more comfortable using social media for customer support vs the telephone or website. The 'trick' is not based on social media share, it is the vision/mission and remarkable stories of your company.
Facebook Advertising
More than five million small to medium sized businesses advertise on Facebook. While 62 percent of small business owners say Facebook ads miss their goal, it remains an inexpensive and effective way to market to different audiences. The ability to do advanced targeting with Facebook ads allows you to target a specific audience based on location, interests, age, gender, online behavior, and many other factors.
Google My Business
Ranking your Google My Business listing can be a big plus, especially if you own a local brick and mortar business. There is talk by some that a Google My Business strategy is key to their success. Google My Business combines all Google platforms, including Google Maps, Google Reviews, access to Google Analytics data, Google Insights, and more.
Google Adwords
There are more than 40,000 search queries on Google every second. Businesses can advertise using AdWords based on keywords people use when searching with Google's search engine. Through Google Ads, you can create online ads to reach people exactly when they're interested in the products and services that you offer.
This strategy is not for the faint of heart or 'trial by error'. It requires skill and a budget.
According to Cliff Sarcona from Zero Limit Digital Marketing, "71.33% of searches resulted in a page one Google organic click. Page two and three only get 5.59% of clicks. On the first page alone, the first five results account for 67.60% of all the clicks and the results from 6 to 10 account for only 3.73%. 15% of all traffic goes to the Google Paid Ads (PPC), or try a different search, or give up."
Google assigns a quality score to your ad, which is dependent on CTR (Click Through Rate), relevance and the landing page your ad sends traffic to. This quality score factors into the bid rate you will need to get an ad displayed, with higher scores lowering the bid cost.
Coupon Deal Sites
You can use coupon deal sites such as Groupon regardless of whether you sell a product or a service. Coupon deal sites attract large audiences, grouped by location, and then allows local, regional or even national businesses to offer limited-time discounts to their members. Benefits include mass exposure, targeted local advertising, increased brand awareness, and an influx of new customers.
The downside is low revenue per sale which in some cases, items are sold no/low profit margin. Some coupon deal sites have requirements for discounting your product or service and they take a cut off the top. This downside requires you to think bigger and consider other benefits such as list building, word of mouth, awareness, introducing new products or inventory reduction.
Advertise in Niche Print Media
Print media can still be an effective strategy for some niches. Print magazine reach isn't dwindling as quickly as one might expect. A study in 2018 showed more than 6 in 10 respondents (62.8%) report actively reading print magazines, representing an approximately 10% decrease from 2015. Print advertising is still one of the most trusted and thus effective forms of advertising, which is why brands continue to assign a seemingly disproportionately large share of their ad budgets to print media.
Print media is rarely effective as a solo marketing strategy. It is best used in conjunction with online marketing strategies to engage experience for potential buyers.
Write Columns
Even if your team has not harnessed the skill of writing, sharing your expertise with weekly or monthly content as a regular guest author has many benefits and helps to build authority. You can write and have someone edit the article before submission.
Columns give you the opportunity to deliver advice or perspectives to those you serve and will give them a better sense of your character and expertise. Local newspapers or non-profit magazines may be an option as they appreciate quality content. While it is more difficult, it can be worth the time to submit articles to websites such as Harvard Business Review, Forbes, Fast Company and Entrepreneur.com.
Direct Mail Marketing
Contrary to the hype, direct mail marketing is not dead. It is possible that direct mail has a new opportunity as so many dropped direct mail to use the Internet. The days of "wheelbarrow of junk mail" in the mailbox no longer exist. Fewer companies look to direct mail.
Keeping the mindset of creating success with targeted creativity, direct mail can be delivered close to 100% of the time. What will it take to compel mail recipients to open your letters? Understanding the needs and wants of your potential customers makes direct mail a serious consideration.
--------------------------------
On their own, each of these strategies is limited. Inbound marketing strategy wraps a multitude of strategies such as SEO, SEM, content marketing, social media and earned media. The result is a more balanced, cost-effective marketing approach to generate leads, strengthens customer relationships and build a brand.
This is not the end. This menu of strategies is not all inclusive.
What is the best strategy for your business? Contact me and we can discover it together!
Was this interesting? You may also like:
Simple Marketing Strategies (and the Strategy Frankenstein)
More strategy examples:
If you are interested in more strategy examples, here is an article for you:
"21 Revenue Strategy Examples to Kickstart Your Revenue Growth"