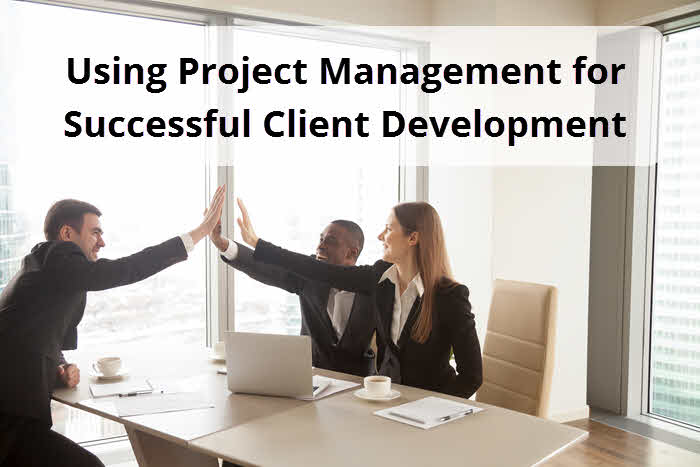 It's no longer enough to simply target your chosen customers and hope for the best in this competitive environment. Any B2B enterprise that wants to grow and remain a going concern has likely woken up to the reality that the landscape has shifted. To stay ahead of the competition, you not only need to create distinctive value and experiences for your clients, but you also have to approach everything you do in the most pre-planned way possible. This is where using project management for client development can put you ahead of the curve.
What Are Some the Principles of Project Management?
Project management is a method of dividing a complex activity into manageable segments so that the principals have the greatest chance of effectively and efficiently achieving their goals. There are various programs available for project management as well as theories related to the practice. Some of the basic principles associated with project management include:
Vision and Mission. All successful projects begin with the end in mind, so this is the overall vision or mission.


Project Objectives. A project's objectives are two to three measurable goals, such as increasing sales or boosting new client leads.


Standards of Engagement. Who will be on your team and how often will you meet? This is when you assign roles and leaders.


Strategy for Execution. These are the activities that will help you meet your stated goals.


Organizational Alignment. This deals with communication and making sure that everyone has "bought-in" to the project.


Measurement and Accountability. Once your project completes, it's essential that you measure success and recognize top performers.
Some of the Factors to Keep in Mind as You Plan for B2B Sales Domination
On the surface, it appears as if project management could easily integrate with client development, although a few tweaks might be necessary. A primary goal of a B2B supplier is to increase its revenue by building its customer base. What's the best way to achieve this goal? Most will agree that B2C customers are often driven by emotion and that B2B clients are more apt to make decisions based on ROI and other facts. While this is true to an extent, it's not entirely accurate.
The fact is that presenting your B2B clients with the solutions to their most pressing problems is essential, but it may not make the sale. One recent study by Corporate Executive Board (CEB) and Google has proven that connection and emotion are also vital factors in B2B marketing success.
The truth is that emotions play a larger role in B2B buying decisions than many originally thought. While a majority (80.9%) of buyers won't consider a company unless they are offering business value, the final decision is often driven by something much different - personal value. Once business value is established, many decision makers (42.6%) will say "yes" or "no" based on personal value factors such as career advancement, self-image, and ego.
How You Can Apply Project Management to Client Development
Based on some of the factors that we've just listed, it becomes clear that B2B marketing and client development isn't a black and white matter. Yes, you can apply a systematic approach to some of these activities to get your ducks in a row, but you certainly can't take emotion or psychology out of the equation. That being said, there are several ways that you use project management principles can make your client development activities more efficient and effective.
Vision and Mission. Your project's mission as a B2B enterprise likely won't stray too far from that of your organization's vision. A good example is a mission to help businesses improve their bottom line by enabling more efficient operations.


Goals and tracking. Your client development project's goals will be much more defined. These might consist of increasing new client leads by 15% each month and increasing revenue by 10% quarterly.


Standards of Engagement. By treating client development as a project, you now have an opportunity to expand the scope of your team. Where your team perhaps once consisted of only sales and marketing staff, you might now want to pull in other top managers and directors. As you build this diverse team, you can assign leaders and roles.


Strategy for Execution. This is where the magic happens during your project, and there may be many intricate steps. The first is "Discovery Mode," where you learn as much as possible about clients on the granular level. This includes both the company, its needs, as well as the needs and drivers of key influencers. Speaking of those key players, we mentioned the emotional factors driving B2B decisions that should be incorporated here. Because many B2B purchases must be underwritten by more than one party, it becomes vital that the sales team knows who those key players are at all times. The decision-making unit (DMU) could consist of a CFO, production managers, safety executives, and marketing staff. Knowing who these people can help you target your message. Next, use your project management system or other CRM software system to create a schedule for team members to stay in contact with these clients to begin building strong relationships.


Organization Alignment. Since these projects are both internal and external in nature, you want to make sure that you have buy-in from all involved. Communicate frequently with your team members to make sure that everyone remains committed to the same goals. When you speak with your clients, you should learn their language instead of expecting them to learn yours. Aside from relaying the benefits and strengths of your product or service, the most important thing that you can do is to build the strongest relationships possible with members of the decision-making team.


Measurement and Accountability. Since you defined goals for your project, it should be pretty simple to measure whether or not you have achieved success. Create a scorecard so that you can evaluate both the success of your project and the performance of team members. Also, make certain that you thoroughly assess the process so that you can make improvements during the next cycle.
By their very definition, projects are temporary in nature. A project isn't meant to be an ongoing activity for the duration of your career. You can certainly apply these project management concepts to client development and make progress, but they will be much more effective if there are beginning and ending dates. One idea might be to treat each month or quarter as a separate project so that you can you close it out, evaluate your results, and begin an even more impactful program going forward.
Understanding and leading a team for successful client development is one of the responsibilities of a chief revenue officer. We have an eBook to help you define the Role of a Chief Revenue Officer in greater depth.
The job of a CRO is more than just a glorified VP of Sales, and the free eBook offers a detailed overview of the role and responsibilities.
Free eBook:
The Role of a
Chief Revenue Officer >