Pros & Cons of CRM Software Systems - Special Report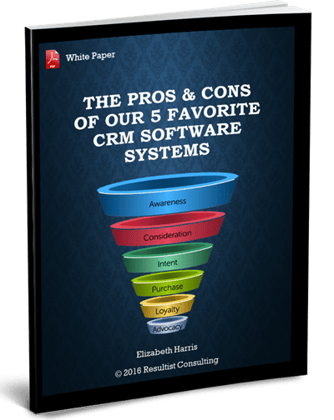 Successful businesses make the most out of every personal relationship, and for that, you need more than just a contact list. Reviewing the pros and cons of customer relationship management (CRM) software can make all the difference when managing and growing a business.
When selecting a CRM software system, choices include a robust CRM software solution, a simple CRM designed for very small businesses or a free version to fit your budget.
Regardless of which is best for your team, CRM software is more than a list, it is a contact list with a brain.
Our favorite CRMs:
Are easy to use (Apple-like intuitiveness)
Are reasonably priced (now and with future growth)
Offer a depth and breadth of support resources (from the platform provider and the "ecosystem" around the platform)
This new white paper covers:

Why CRMs fail and how to avoid the failures.

The pros and cons of our 5 favorite CRM solutions.

The difference between a spreadsheet vs CRM software for customer relationship management.

Like this? Spread the word: