"Fire the sales & marketing team" may be heard behind closed doors from unhappy and frustrated leadership. The simplest solution is to remove the marginal team and dig into the "deep well" to hire and train fresh candidates.
Before you borrow the infamous phrase "Your fired!" to chop up the sales & marketing team into small pieces, consider how the difficulty and change the role of a CMO is undergoing.
Consider the thoughts from a McKinsey & Company article that applies more today than when it was written:
"Few senior-executive positions will be subject to as much change over the next few years as that of the chief marketing officer. … as the forces of marketing proliferation gather strength, what's actually required is a broadening of the CMO's role. This expansion will encompass both a redefinition of the way the marketing function performs its critical tasks and the CMO's assumption of a larger role as the "voice of the customer" across the company as it responds to significant changes in the marketplace."
---
Venturebeat.com breaks down the success of a CMO and sales/marketing team to answering the simple question of "How are we doing?"
How are we doing ---
in social media
on the web
in programs
in events
in SEO
in advertising
in email campaigns
in …………………
The inability to answer these questions leads to guesswork and analysis in circles. Accurate data is at the core of success but and analytical skills are also required.
---
Kimberly A. Whitler shares via Forbes.com a summary of "New IBM Study Finds CMOs Face An Increasingly Difficult Role". Included in the summary of how a CMO copes with blurred lines:
Competitive Lines Blurring: (60%) of the CMOs in the study indicated that the greatest source of competition is expected to come from outside of their core industry.


Roles, Skills and Knowledge Blurring: Gartner prognosticated that CMOs will control more IT spending than CIOs by 2017. IBM's study underscores how important it is for CMOs to become semi-if-not-seriously IT literate.


Torchbearer CMOs Identify New Business Models to Cope with Blurring Lines: 77% of Torchbearers (vs. 62% for Market Followers) are experimenting with new, more open methods to solve problems.


Customer Experience Functions Blurring: With a greater focus on the total consumer experience, Torchbearer CMOs (92% versus 70% for Market Followers) are placing greater emphasis on integrating marketing, sales and customer support.


Physical (traditional) and Digital Worlds are Blurring: As the CMO of a U.S. telecom company warned, "Marketing is no longer about winning creative awards; it's about one-to-one communication."


Blurring of Talent Acquisition: As CMOs cope with the blurring of responsibility, role, knowledge and skill, they are turning to a variety of new(er) sources to find talent, such as outsourced experts, or new hires from different industries with specific digital competency.
"As lines have blurred between industries, competitors, skills and talent, as well as between the digital and physical worlds, a new breed of marketing professional is coming to the forefront. These new marketing professionals will require more sophisticated specialties to understand and deliver connected experiences that engage the consumer as an individual and deliver a seamless brand experience."
Maria Winans, CMO of IBM Commerce
---
Consider how disruptive technology, the ease and speed at which competition is emerging and the unpredictability of the market, the role and responsibilities of a CMO must be elastic and open to evolution.
Before taking action with a new "training program", a survey by Spencer Stuart is enlightening.
Spencer Stuart conducted a survey of more than 150 marketing leaders across industries to learn what skills they prioritize, how they are developing talent and what they are doing to build their own careers.
What are the most important skills of a CMO vs the most difficult skills to find?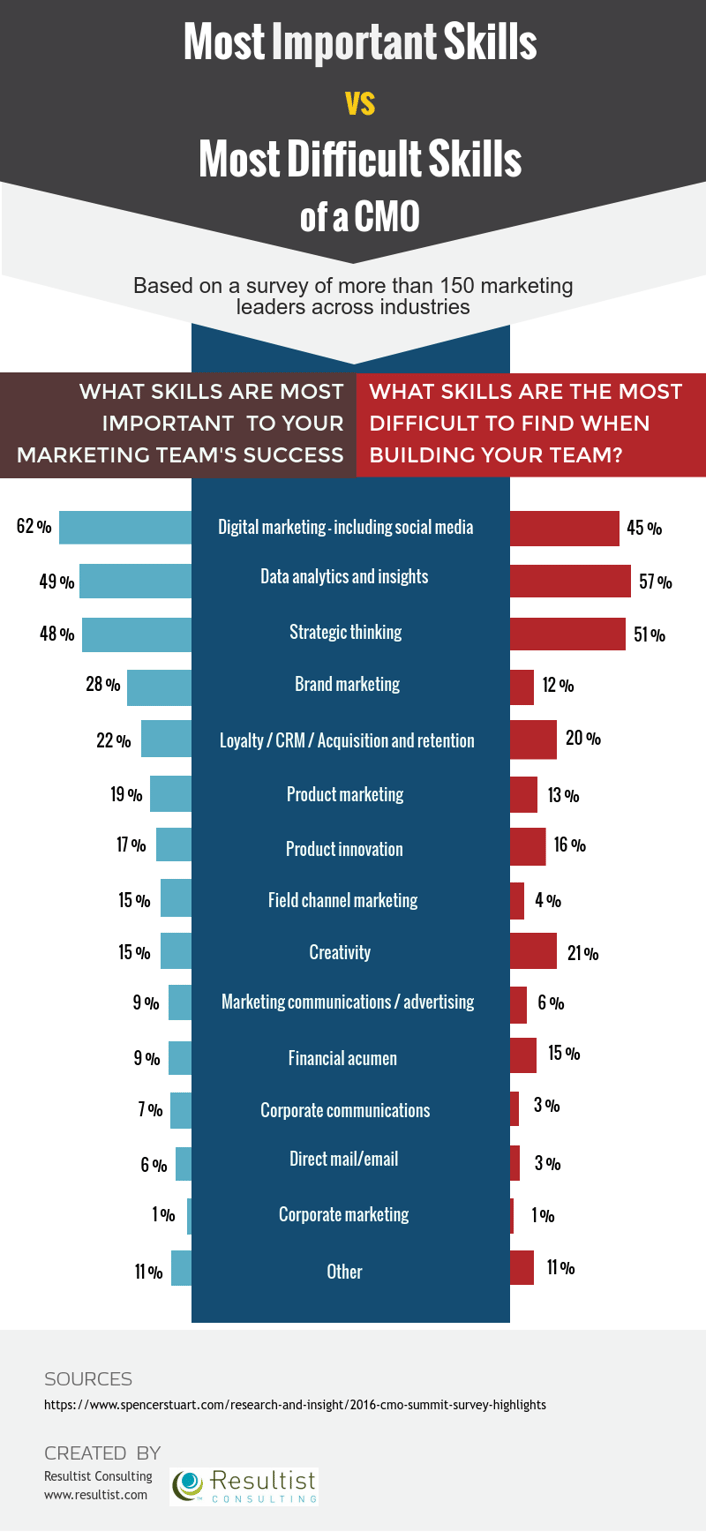 According to the survey, the three most important skills
Digital marketing – including social media
Data analysis and insights
Strategic thinking
...are also the three most difficult skills to find.
CMOs believe that a strategic mindset and analytical orientation will be the most important future skills expected of them, according to the research from Spencer Stuart.
Additonal highlights from the Spencer Stuart survey:
The most common way by which CMOs develop their marketing team is through performance reviews (73%), with cross-functional assignments (49%) and internal training (46%) trailing.
Almost 6 in 10 marketing leaders don't think their teams have the skills needed to manage the increasing demands placed on the marketing function today.
More than 7 in 10 plan to shift from marketing into a broader General Manager role as part of their long-term career goals.
This survey list something you can ask of your own team. Here is the list from the survey…
Digital marketing – including social media
Data analytics and insights
Strategic thinking
Brand marketing
Loyalty/CRM/Acquisition and retention
Product marketing
Product innovation
Field channel marketing
Creativity
Marketing communications/advertising
Financial acumen
Corporate communications
Direct mail/email
Corporate marketing
Other
With strategic thinking and analytical orientation standing out as important and difficult to find, you are invited to connect with me about revenue growth workshops . Training events are a great opportunity to help your team gain new insights and develop new skills.