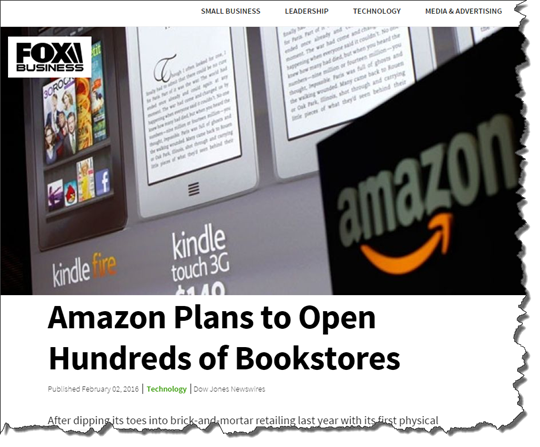 Two pre-eminent Pacific Northwest companies occasionally share pieces of their long view public. Both Amazon and Filson are achieving their goals and securing their futures by purchasing real estate. Recent news about Amazon included plans to open hundreds of bookstores.
Watch the short video that talks about the very first bookstore and a little speculation as to why and questions about Amazon's long term plans:

Many companies attempt to take the long view and develop budgets with hopefully accurate forecasts. With the exception of a notable few, most don't see beyond the immediate future.


Here are a few essentials as you take the long view and create a sustainable profitable revenue plan:

Assess your company's current revenue streams.

Evaluate trends in the economy, your industry and client base.

Evaluate your organization's internal strengths and weaknesses.

Conduct reviews with your clients to discover what their plans are for their future.

Develop pro-active strategies to close any gaps you uncover.

Make your Cost of Sales vary in proportion to revenues.

Create measurements that are easy obtain… and measure your progress.
Measuring results is much more than, "
are we on track or not?"
It is important to invest time
(at least quarterly) to understand the metrics and provides an opportunity for a
SWOT analysis
.
- What are the implications of the results?
- Do we need to make changes to achieve our goals?

The evaluation must include revenue and profitability for:

Clients

Lines of business

Market segments

Sales and marketing strategies


In order to do more of what's working and less of what isn't, you must first know what works.
An important factor in the utilization of your strategic plan is its ability to successfully project your organization's tipping points. Are you aware of the point when it is better to change habits, behaviors or processes to better suit your long view?
In the past, Jeff Bezos, Amazon's founder and CEO, has suggested that as the company grows and hires more employees, renting office space no longer makes economic sense. "At that scale, renting that capacity would not be easy. In fact, it would be impossible," Bezos said in May at Amazon's annual shareholder meeting in 2012. Seattle Times 10-6-12
If you want to know about Amazon CEO Jeff Bezos' obsession with longevity, all you have to do is read up about his side projects. You could check out his super-secretive aerospace company, Blue Origin.

On November 23, 2015, Blue Origin's New Shepard space vehicle successfully flew to space, reaching its planned test altitude of 329,839 feet (100.5 kilometers) before executing a historic landing back at the launch site in West Texas.

Watch the amazing video:

Or you could look in the Sierra Diablo Mountain Range in Texas, where Bezos is carving out a hole in one of the mountainsides to build a 10,000-year clock using $42 million of his own money
---
---
When revenue and profitability goals are being established, go one step further – use your strategic plan and prepare for the tipping points. Understanding what the results mean to your company's long view and taking action when those moments occur will make the difference between success and missing the goal.
We have free resources to help you get immediate results and plan for the long term.