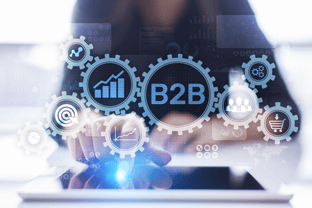 2020 saw the biggest shift in B2B buying, selling, and marketing in recent history. What was originally speculated to be a temporary pivot ended up being a cataclysmic shift in how revenue is generated in B2B organizations. The trends and strategies that emerged have permanently altered the future of B2B buying.
The biggest change to the B2B landscape over the last year has been the move to digital selling strategies. Digital is now the preferred contact and buying method for B2B buyers to do research, order products, and schedule service. And like many of the changes we have seen arise in 2020, the digital trend does not appear to be going anywhere any time soon. In fact, 80% of B2B buyers want to stick with digital interactions (remote interactions and digital self-serve) in 2021 and beyond.
This is not simply an American phenomenon either. It is a global trend – with 67-81% of B2B buyers in all major global markets indicating they believe new digital sales models are effective. This represents as much as a 22% lift in positive perceptions related to digital B2B sales.
Remote interactions are successfully being used to generate leads, throughout the sales process to inform and engage with potential buyers, and post-sale to provide ongoing support.
Video Conferencing
Video conferencing is now replacing in-person sales, with sales-related B2B videoconferencing up 38-53% since March of 2020. This shift is being supported not only by B2B buyers, who prefer remote sales engagement, but also management at B2B organizations as well due to the cost-savings. On average, businesses save $2-7K per employee annually on travel expenses when using video conference tools. And while video conferencing certainly works well in a sales capacity, it also aids in marketing efforts. In fact, 92% of B2B marketers surveyed reported using video conferencing for their core marketing tasks.
Live Chat
Virtual chat has always been a support staple because it is relatively easy and inexpensive to implement, but the pandemic has increased the use of live chat among B2B buyers significantly. Recent data shows that sales-related online chat activity is up 40-49% since March of 2020, making it a necessity for B2B companies looking to drive sales and supplement ongoing service offerings.
Live chat can efficiently handle sales inquiries and post-purchase support requests simultaneously by routing inquiries to the correct team, streamlining customer communications. It offers enough of a personal touch that buyers feel like they are connecting with a real person without the inconvenience and pressure that comes with an in-person sales meeting, which explains why 85% of B2B companies use it for sales, while 66% use it for customer service.
Online Self-Service Purchases
Self-service is no longer for low dollar purchases and mundane reorders. Reportedly, 32% of B2B buyers are willing to spend $50K-$500K on new products/services with remote interactions or self-service options, while an additional 12% are willing to spend $500K-$1M and 15% are willing to spend more than $1M. Morgan Short explains the shift towards B2B self-service purchases in this way:

"More than 70% of B2B buyers find buying from a website more convenient than buying from a sales representative. The trend toward self-service in B2B is not surprising. Like consumers, B2B buyers want control over their experiences and increasingly prefer to self-serve. Consumers have grown used to seamless, Amazon-like shopping experiences in their personal lives. Those experiences carry over to and shape their B2B buying expectations."
In a recent survey 75% of B2B companies reported that they have found virtual engagement to be equally effective or more effective in reaching and serving existing customers, while 76% have reported the same thing with new customers.
Service and Support Levels
Robert Johnson, co-founder and CEO of the cloud based B2B software TeamSupport, echoes this trend and predicts what 2021 will see in terms of virtual B2B support strategy when he says:
"While the move to 'omnichannel' support isn't new, the number of channels is expanding. We will begin to see a shift in the channels that customers prefer with a strong move into conversational mediums. Traditional chat will continue to expand, but there will also be more adoption of additional conversational channels such as SMS, FB Messenger, WhatsApp and others. By taking this approach, both the agent and customer have a convenient way to communicate, providing the feeling that everyone is on the same team. Leading support software solutions will have integrations into conversational platforms allowing information to be shared between the systems and searchable by your greater support team to resolve other issues."
Buyer Journey
B2B companies are making great strides in providing a seamless buyer journey by coming alongside the customer and offering on-demand, customized assistance throughout the entire lifecycle of the customer. Johnson further explains,

"B2B customers expect more than just a product exchange from vendors. Instead, they demand great self-service options and rapid responses without losing the option of engaging with a human being. The idea of a B2B support agent acting solely as a troubleshooter is fading and will be entirely outdated in the coming years. Ultimately, businesses want a partner that will help them accomplish their goals through enhanced professional service offerings, of which traditional support is just a piece. In 2020, we'll see businesses take more immediate action to build their support teams in a way that nurtures the entire customer experience."
The trend right now is supporting the entire buyer journey instead of breaking it into departmentalized pieces and handing off the customer from marketing to sales then sales to support as they move through the buying process. This strategy will continue to be emphasized in the coming year and will be facilitated through the strategic use of digital technology that equips account managers to provide better pre- and post-sales support.
Get revenue planning help to adapt to this digital shift – download the Revenue Development Action Plan for actionable insights.