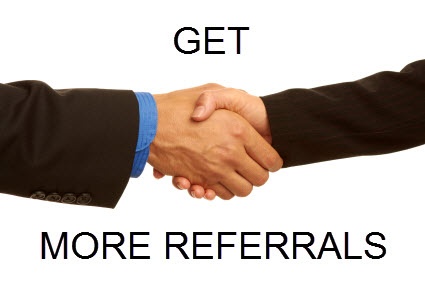 When someone gives a referral, it is an honor and a gift. Every company wants and needs more referrals to grow profitable revenue. Referrals convert better, close faster, and have a higher customer lifetime value than any other type of lead.
Referrals are preferred over salespeople.
More and more buyers are avoiding salespeople during the buying process. Sales reps, according to Forrester, tend to prioritize a sales agenda over solving a customer's problem.
If organizations don't change their outdated thinking and create effective sales models for today's digital era, Forrester warns that 1 million B2B salespeople will lose their jobs to self-service e-commerce by 2020.
Salespeople Must Adapt
Salespeople must adapt to new culture and the new world of media to research, prospect, and network by sharing educational content and answering questions. As a result, they're able to build relationships until prospects are ready to buy. "Solve the customer's problem" must become a mantra.
Adding a B2B Referral Strategy
A revenue growth plan dependent 100% on referrals will probably remain a dream, but achieving greater referral success doesn't have to be out of the realm of possibility. If have satisfied customers who find value in your product and services and if you have a high Net Promoter Score – you may be closer to a referral engine than you think.
Key questions to ask when considering how to get more referrals:
Is your product referral worthy?
Which customers should you target?
How will you promote the program?
How will you qualify referred leads?
How will you hand-off referred leads to sales?
How will you motivate customers to make referrals?
How can you automate a referral program?
Due to the complexities of long sales cycles and contract negotiations, a B2B referral program can get complicated. Incentives include credits which can't be redeemed until six to ten months down the road, or in segmented discounts off of portions of an invoice. It is important to keep a B2B referral plan simple. Be transparent with details of your referral process:
Make it easy to understand how any information shared will be used
When you will be reaching out to the "referee"
How the referral process will work
When they can expect updates on the status
Here is data about referrals you may not be aware of:
Unfortunately, most organizations don't have the one thing they need to generate more of these high-quality referral leads quarter after quarter: a formalized referral process.

New research from Influitive and Heinz Marketing demonstrates that referral programs are the key to greater lead volumes, lower marketing costs and better sales forecasts. Heinz Marketing surveyed 600 B2B professionals from across North America to understand the impact of formal referral programs on sales pipeline growth and revenue acceleration.
The following infographic highlights the survey results:

You can also find more infographics at Visualistan
The data above supports a proactive plan to get referrals. but you may believe a B2B referral strategy is out of reach. If so, please contact me here to talk about opportunities and barriers.
At the hub of B2B referrals are excellent tools such as a CRM software system. You can download the free white paper to learn about our five favorite CRM software systems here:

"The Pros and Cons of
Our 5 Favorite CRM Software Systems"