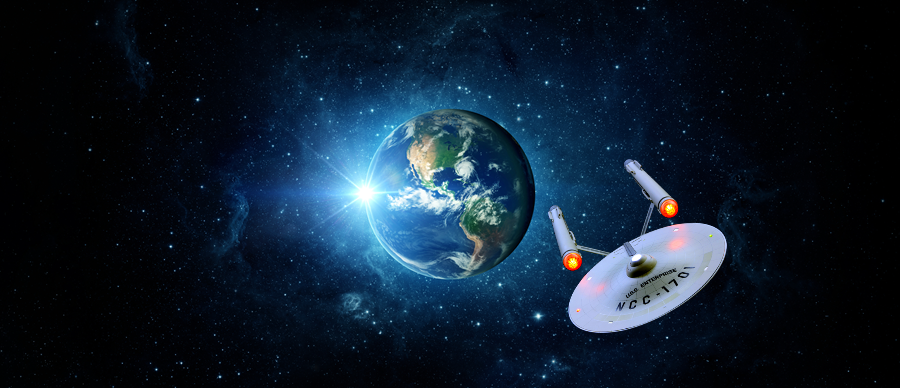 The second foundational question (FQ) in the Revenue Development Action Plan is:
What is your company's purpose? Why are you here?"
In the early stages of creating a business there is a strong focus on developing a vision, a formal mission statement and company values. However, the company purpose is something that is often more elusive.
Most new businesses are primarily focused on generating enough revenue to be sustainable. Business owners may have a strong personal sense of why they formed the business, but that purpose is not always reflected throughout the company. As businesses grow, however, they may naturally begin to develop a purpose that drives strategic decision-making. This direction must be refined into a clear purpose statement or the company will aimlessly wander.
A meaningful purpose requires a thorough understanding of what the business is doing currently, what it plans to do next, and where it hopes to go in the future. Unlike a typical mission statement, however, the company purpose aims to primarily address the reason why the business does what it does. While it outlines the overall direction of the business it may also incorporate specific aspects like key focus areas, strategic partnerships, and target audiences.
The purpose for the business gets to the heart of why the company does what it does, helping to guide business decisions by creating a framework that enables the organization to achieve its mission (the what) and vision (the where). Laying out the organization's purpose helps to guide the company into the future. The purpose statement sets expectations both internally (for senior leadership and employees) and externally (for customers, investors, and partners).
While purpose statements are primarily used internally, they can also aid in shaping required external documents. As a living document, a company purpose should evolve with the needs of the company and changing market conditions.
You may ask what it means to have a defined and advertised purpose. Aren't there already a plethora of labels that define your organization's direction?
What is a Company Purpose Statement?
Mission statements and purpose statements are often confused.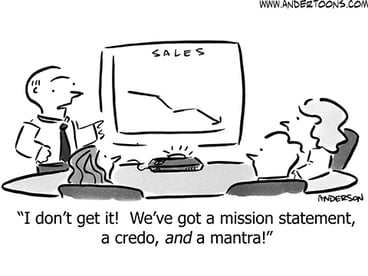 Many business owners treat mission statements as a catch-all for everything related to the purpose of the business. Subsequently, they may perceive a purpose statement is nothing more than a superfluous re-write of an existing document. Too often, business owners do not truly understand how these documents are meant to differ. Understanding the nuances and making time to generate both can feel like an exercise that is meant to check a box instead of fuel success, leading to chronic de-prioritization.
A vision statement (where you're going) conveys what the company wants to become in the future. A set of values (how you'll get there) serves as the cultural foundation of your organization by acting as a behavioral compass. A mission statement is about "what you do and who you do it for". Your purpose is something much different – it is why you do what you do.
A business purpose statement primarily illustrates how your organization will impact its customers. Your company is in business to provide a product or service, so this statement should reflect how you will improve the lives of the people or businesses you serve.
Knowing this, your company may have been founded with one purpose in mind and evolved to focus on something else entirely. For example, Twitter was first developed as an SMS-based communications tool to allow colleagues to keep tabs on each other. It soon morphed into something much different, and its current purpose is "To give everyone the power to create and share ideas and information, instantly, without barriers."
Amazon was originally (1995) in the business of selling paperback books, and its purpose statement reflected this. Now, it is a bit broader - "We seek to be Earth's most customer-centric company; to build a place where people can come to find and discover anything they might want to buy online."
Sometimes the business evolves as a natural progression, while in others, the customers might have more of a say in a company's direction. In the case of Amazon, founder Jeff Bezos always had the goal to build an "everything store", but decided to start with books. Twitter saw instant explosive growth and went beyond its SMS boundaries at a 2007 interactive conference. Users began creating new jargon, as well as different ways to use the platform, far beyond what the creators had envisioned.
Furthermore, business owners recognize the substantial time and effort spent creating the mission statement and strive to get as much use out of it as possible, sometimes opting to have it double as a purpose statement instead of creating separate items.
While a purpose statement certainly has a mission-oriented component, a mission statement and purpose statement are not the same.
The formal mission statement resides on the company's website and is integrated into marketing and sales collateral. (It may even be a poster on a wall.) It adheres to best practices and utilizes meticulous word selection to effectively resonate with various audiences and shareholders. A purpose statement does not need to be as polished or technically sound but should still be meaningful and inspirational because it is equally important to the health of the business.
Why Your Purpose Statement Matters
Your purpose statement does more than make your brand unique, although it should accomplish this. More importantly, it acts as a bold affirmation of your reason for being in business. It not only communicates to the world how you are going to help customers solve their problems, but it also helps define your company's culture.
These aspects of your purpose statement can both help define your organization's identity and make it more successful. This might sound like an audacious promise, but the research rings true.
According to a recent study by Porter Novelli/Cone of more 1,110 Americans, 79% of respondents feel they have a deeper personal connection with organizations that share their values, and 72% believe that purpose-driven companies care more about them and their loved ones. A conveyed sense of purpose prompts 88% of people to want to buy products or services from a company.
Just as important, 70% say they'd want to work for a company like this, and more engaged employees are more productive ones. According to research from Cone Communications, 75% of Millennials are willing to take a pay cut to work for a company that has a defined purpose and set of values.
Purpose goes beyond motivation and inspiration. Evidence suggests that this directly impacts your bottom-line results.
Jerry Porras and Jim Collins, authors of the business classic Built to Last, conducted a 6-year study of a group of companies that have enjoyed exceptional long-term success, including well-known brands such as Disney, 3M, Marriott, Hewlett-Packard, and Procter & Gamble.
On average, these companies have been in business for 100+ years, and their stock has outperformed the broader market by a factor of 15X or more since 1926. Porras and Collins uncovered several key components that have allowed these companies to thrive and endure, one of them being a deeply-held core purpose that produces a sense of continuity and identity for the business and its customers.
Internal Intentions and External Implications
A purpose statement is primarily used internally to rally employees behind an overarching vision and organize teams. Iterating the business purpose is meant to provide transparency and serve as a roadmap as new opportunities present themselves, and challenges arise. However, the purpose statement informs external needs as well. It serves as the backbone for investor pitches, partnership requests, financing applications, funding requirements, mission statement creation, and franchise agreements. This important document appears in far more areas than business owners and founders tend to realize.
Evolution of Purpose
Mature businesses understand that staying afloat requires adapting to market changes. As business plans are altered, the purpose statement should absolutely change as well. The company's purpose must evolve in response to changing customer needs and expectations, resource availability, competitive landscape fluctuations, and newly arising business opportunities. To stay relevant a purpose statement needs to remain fluid. This living document must be revisited when operations are modified and long-term strategic planning shifts.
The passing of time alone is responsible for changes in business purpose, especially in fast-moving industries like technology. Legacy companies understand this well. For instance, IBM and Apple have learned to adapt to market changes through rapidly evolving advances in technological capabilities and changes in customer demands. Today's top tech companies are being pushed to excel in arenas that had not even been imagined when they were originally founded.
Even more recently founded companies like Amazon and Google have seen cataclysmic changes to their purpose statements, guiding them through immense market changes. With humble beginnings selling books and media, Amazon has transformed itself into the gold-standard for rapid delivery on every consumer product imaginable, pioneering drone technology use and revolutionizing product logistics. Similarly, Google started as a simple search engine that has now eclipsed every other search engine while expanding into everything from geo-mapping and virtual reality experiences to genomics mapping and state-of-the-art human health aids.
In these high-profile examples, the companies named championed their own transformations.
However, in other instances, buyers may drive purpose statement changes. Customer backing of charitable causes, social responsibility, public policy issues, ethics, and other interest-based motivations can influence a company's purpose.
For instance, the highly publicized plastic straw ban arose from consumer demands for more eco-friendly considerations by big brands. This led to corporate policy modifications and product offering changes at Starbucks and McDonald's among others. Similarly, Adidas shoes created from ocean waste was in response to an increased global concern for water purity. In each of these cases, consumer recognition of outdated corporate purposes resulted in push back, which ultimately changed business consciousness.
How to Develop Your Company's Purpose
A company's purpose is bigger than its product, service, technology, charismatic leader, or team. It's the idea of who you are as a company and why you exist. As such, it should also drive your decisions and actions.
How do you define this purpose so that it is meaningful and memorable? Here are several steps you can take to develop this statement, along with a few examples from well-known companies.
1) Define What Your Company Does.
First, start by defining how your company solves a particular pain point for its customers. Sure, you deliver a product or service, but how does it solve a problem in the eyes of your target audience?
Does it quench a thirst, streamline shipping and receiving, or strengthen online security? Once you've figured this out, you can use this in your purpose statement and include some values.
Here is Marriott's purpose statement:
"To enhance the lives of our customers by creating and enabling unsurpassed vacation and leisure experiences."
2) List Some of the Values Around Your Purpose.
What makes you passionate about the product or service your company provides? Put pen to paper, or brainstorm with your team, to figure out some values that align with your purpose. Some examples are:
> Enthusiasm
> Excellence
> Well-being
> Innovation
> Community
> Sustainability
Southwest Airlines has let its values shine through in its purpose statement:
"Dedication to the highest quality of Customer Service delivered with a sense of warmth, friendliness, individual pride, and Company Spirit."
3) Combine the Rational with the Emotional.
Purpose statements need to be grounded in reality, but also have an emotional element. In other words, the statement should have a "wow" factor or make you "tingle" with excitement and inspiration. Whole Foods does this well:
"Our deepest purpose as an organization is helping support the health, well-being, and healing of both people — customers, Team Members, and business organizations in general — and the planet."
4) Use Plain Language.
A good purpose statement will use plain language that is simple for customers, employees, and stakeholders to grasp. Consider PayPal's purpose:
"To build the Web's most convenient, secure, cost-effective payment solution."
There are no ambiguous words used; it's simple and to the point, clearly oriented towards fulfilling the needs of customers.
5) Make it Tangible Enough for Internal Use.
One of the reasons that you want to use plain language in your purpose statement is so that it can be internalized within your company's culture. If it resonates, it will inform how your staff makes decisions, how they innovate, and how they solve problems. This will make it a catalyst for real business growth.
But this is only going to work if your purpose statement is pragmatic, tangible, and strong enough for employees to grab hold of it and make it their own. Before you release your purpose statement, ask yourself, will employees in the marketing department, on the shop floor, and in the field be able to apply this?
So, abstract proclamations like "we improve life on this planet" aren't going to work, because there isn't anything concrete to hold onto. But, statements like these work well:
"Uber is evolving the way the world moves. By seamlessly connecting riders to drivers through our apps, we make cities more accessible, opening up more possibilities for riders and more business for drivers."
"Empowering people to stay a step ahead in life and in business" - ING
"Nourishing families so they can flourish and thrive" – Kellogg
"Connect People to what's important in their lives through friendly, reliable, and low-cost air travel." - Southwest
Undercover Boss
Become your own undercover boss, but without the make-up artist and wig. You will soon discover the staff, vendors and customers belief of why the company exists. If you get 20 different answers from 20 different people, you should pause and consider. A more mature company which has gone through many phases of evolution may have a muddled purpose, each leader with an agenda. If the answers you hear are lethargic, a shrug, a 'don't know – don't care', it is possible there are leadership and communication issues.
If your passion is strong and purpose clear but your staff, vendors and customers do not reflect the same, it will become a barrier to revenue growth.
Your purpose is what defines your company and sets you apart from others in the industry. Having a defined purpose will unify your organization and ensure that your business continues to grow and achieve its goals.
If this is a topic of special interest, the book "Lead with Purpose" by John Baldoni might be of interest to you.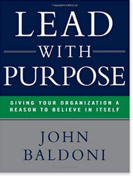 "Ask any leader: What would you give to have an entire company full of committed employees willing to go the extra mile? For all your people to work together as a unified force, knowing exactly what they do, and why they do it?
Featuring illuminating stories, interviews, and profiles of leaders from a variety of fields, Lead with Purpose shows readers how to take their organizations to the next level with renewed focus and improved direction."
---
Defining your Purpose is just one of the exercises in the Revenue Development Action Plan that can help your company achieve its B2B sales goals.
Get your copy of this plan now or contact Resultist for more information.