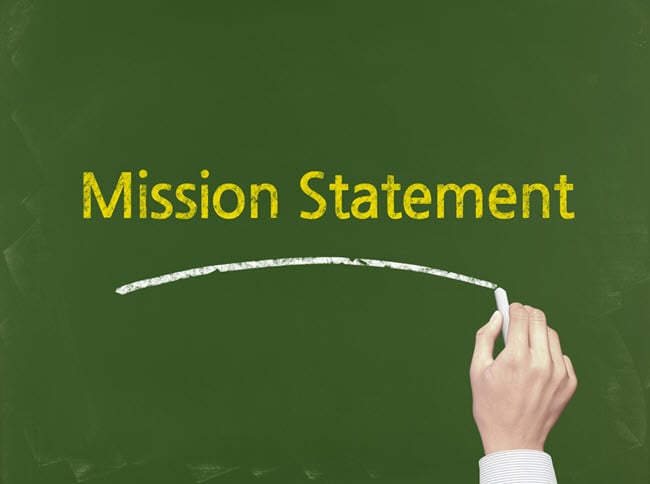 While creating a mission statement is typically an early step in starting a business, many mature companies have outdated versions, poorly written attempts, or are missing them altogether.
Most frequently, time is the limiting factor. Business owners and founders can be reluctant to invest the time needed and effort required to craft an effective mission statement. They wonder whether it is truly essential for growing their businesses and if customers will ever read it. These doubts can relegate creating or updating a mission statement to non-critical status, freeing up valuable time for other essentials.
However, a mission statement is a crucial document that describes the purpose of the business. It states what the business is going to do, for whom, and why. A successful organization should know the answers to these questions because they speak to the most basic elements of a business plan. As such, the company mission should essentially write itself. Yet, owners, founders, and executive leadership still struggle with formulating an effective mission statement.
Knowing what you want to accomplish, what you need to include, and how to approach writing the mission statement ensures that the result will be a meaningful use of resources.
Purpose
A mission statement should summarize the overall vision for the business, answering the questions, "What does the company do?" and "Why does the company exist?"
Describing the purpose for the business gets to the heart of why the company does what it does, helping to inform business decisions by drawing a trajectory for where the organization is headed. Laying out where the organization is going helps to guide the company into the future. This message sets expectations both internally (for senior leadership and employees) and externally (for customers, investors, and partners).
Key Components
The mission statement translates the organization's beliefs and values into an action plan using several key components:
Explanation of What the Company Does
At its most basic level, this explanation should include what the organization does for its customers and employees. However, more aspirational mission statements for wider-reaching lifestyle brands may also define what the company does for its community and the world at large.
A company's brand promise should be reflected in every area of the business, including the mission statement. This builds on the explanation of an organization's purpose by making a social contract with customers to set ongoing expectations.
Some mission statements also include product or service claims when these claims are vital to the brand promise. However, extra care must be taken to avoid creating a mission statement that sounds too salesy when leaning on product/service claims.
Unlike a success plan, which elaborates on distinct revenue or market share goals using set KPIs and other metrics, the goals included in a mission statement should be broader. Since a mission statement is used both internally and externally, it would not be appropriate to include the same level of specificity. Instead, goals should be more generalized and customer-focused to avoid exposing a competitive advantage or repelling potential customers.
Best Practices
Some technical best practices should guide the mission statement creation process:
Writing a mission statement should add value, not check a box. If the mission statement does not have meaning, it cannot be effective. Put the effort into generating a mission statement that conveys true purpose for the business and furthers the brand conversation instead of adding fluff. The result will be a mission statement that internal and external audiences genuinely believe.
Some businesses go overboard with their mission statements – trying to fit too many details in and diluting the message in the process. However, eliminating wordiness can create a shorter, far more effective mission statement. Ideally, it should be less than three lines longs to maximize readability. By removing extraneous information, a mission statement can be distilled down to focus on the most important elements.
While employees and partners likely understand insider jargon, customers may not. Furthermore, jargon, ubiquitous phrases, and vague buzzwords weaken the message by making it too generalized. A differentiating mission statement will use carefully chosen words to convey a clear message.
Emphasize the good that the organization does but avoid hype and hyperbole. If the truth is not compelling enough to drive a desired action (purchase, donation, etc.), the mission statement should be strengthened to garner support.
Test the mission statement by evaluating whether it can be applied to competitors as well. If it can be used to describe other businesses or the industry in general, it is not unique. Use the right brand positioning and wording to differentiate the company from its top competitors.
A mission statement is not a snapshot – it is an action plan. Its messaging should be directional, informing audiences what the company's long-term goals are and inspiring them to be a part of the journey. An inspirational mission statement will unite employees around a singular vision and simultaneously earn customer approval.
It is not uncommon for a mission statement to undergo several rounds of intense editing. Successful companies typically also ask for feedback as part of the editing process. Having highly engaged audiences like employees and brand advocates provide input helps to refine the message for meaning and efficacy.
Once a mission statement has been finalized, it can be used online and in print. However, the job does not end there because it is a living document. As such, it should be revisited periodically to ensure that it still fits the organization's success plan. In many cases a third-party consultant or agency can help develop an effective a mission statement initially and determine whether the existing statement is keeping pace with changing business objectives afterwards as well. Aligning the overarching mission statement with ongoing success planning creates strategic cohesiveness.
A mission statement is one of the many pieces in the Revenue Development Action Plan. Get your copy here: