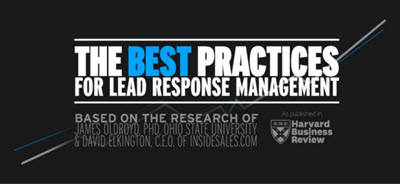 Managing leads to convert them into more sales requires good timing and persistence. This infographic presents four best practices to follow to close more sales.
---
What is meant by lead conversion?

Lead Conversion is the process of converting a lead into an account, contact, and/or opportunity. Leads are typically generated from marketing events, such as trade shows or mailing campaigns.

What is a sales conversion rate?

Conversion Rates are the percentage of prospective customers who take a specific action you want. For example, the following are specific conversion rates that an organization may track: The percentage of website visitors who fill out a form, call your company, or purchase something from you online.
---
Instead of focusing on generating new leads it makes sense to increase the conversion rate of current prospects. This can improve sales ten-fold while at the same time dramatically reducing the cost of acquiring those customers. You will include in your strategy:

A sales process map – With the right process and tools, you should be able to study your sales process from every angle, manage and control each step. Understanding each step helps you convert more effectively and anticipate predictable buyer concerns.

Conversion rate measurement - Measure results, focus on the key factors that make an impact on results and see more success.

Lead qualification matrix – Investing time on unqualified leads is undoubtedly the number one factor for lack of success. Not everyone is a prime prospect.

A connection with open prospects – Instead of convincing people who don't want or need your product/service, connect with those who are open to solutions/products or services you are selling.

A free information offer – This falls under the umbrella of "inbound marketing" as you can 'earn' attention vs demand it. Empowering prospects to make the best decisions by offering relevant information helps them to make an informed purchase decision.

A clear path with a focus on the first step - The old riddle "how do you eat an elephant?" answered "one bite a time" is puzzling since we don't eat elephants. It does however make a point. Offering a simple and obvious overview upfront gives prospects a sense of what is to come. But then, focus on the first bite.

A planned agenda – A planned agenda shows you have invested time and effort to plan for your meeting and makes a great first impression. Increase your conversion rate by setting the right expectation from the outset.

The ability to understand the core problems or needs – Avoid a transactional mindset and help your customer get to the heart of the matter. Peel away the layers.

Educating buyers of the value - Focus on educating buyers to help them understand the value of your product or service. Explain how it solves their major concerns and tell them exactly what you do for them at each step.

Start with 'why'
Why you do what you do
Why you sell what you sell
Why your product or service is better than others
Why they should act

Create irresistible offers - An offer that makes it more advantageous for them to purchase your product or service than not to do so.

Improve sales skills - Effective selling is more than learning a sales spiel or having the gift of gab. The finest sales people believe in the product and consider how to be helpful by offering meaningful recommendations and suggestions.

Know, understand and prepare for objections - Different prospects need to hear different responses based on their own unique issues.

Improve presentation skills - Research shows people retain 20% of what they see, 20% of what they hear, and 50% of what they see and hear. The use of visual aids can improve closing rates.


Improve telephone skills - Customer inquiries, orders or complaints via the telephone as a primary method of dealing with your business.

Consistent and constant follow-up - 80% of all significant sales occur after the fifth follow-up. There is such a significant impact on results, it only makes sense to follow up (in a way that is nurturing, informative and supportive). There is a profound difference in conversions with consistent follow up. (Which is why a CRM is so valuable).

Recruit eagles – There is a big difference between creating a successful business that attracts the right superstars vs recruiting and developing your own. Regardless of the path chosen to build a team of excellence, this may be #1 on your list of priorities.

Market research – Your strategy includes either creating a market or meeting a market demand. Market research identifies which and expanded market research helps to understand who and where the prospects are. Often times research reveals how the message you believe you are communicating is not the same message received by the prospect. Market research can indicate how to differentiate your business from competitors.
---
When a considerable amount of effort is utilized to generate as many leads as possible in a campaign, less focus is put into looking at the quality of each lead, which in turn becomes counterproductive. A truckload of leads is pointless if only a canister-full can be turned into customers. If you are re-evaluating your success rate, we have Best Client Identifier Worksheet. Access it here >
If you have a process in place but the tools are holding your team back, we have a new white paper about the pros and cons of our favorite five CRM software systems: You can get it here: