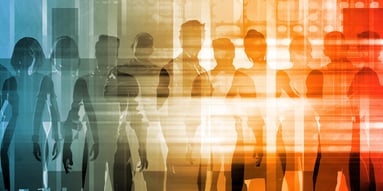 In more than 20 years as a Chief Revenue Officer (CRO) I have seen the difference between effective and ineffective leadership first-hand. And while the names and organizations may vary, the professional attributes and character traits largely do not. There is a core set of characteristics that makes the top CROs the best at what they do.
Because I am human, I am not saying that I am perfect image of an executive leader, but I work hard every day to embody as many of these characteristics as possible and strongly recommend that you look for a leader who does the same as well.
If you are looking to hire a Chief Revenue Officer, there are certain professional and personal qualities you should be looking for in an executive or executive advisor. Incorporate them into your Chief Revenue Officer job description, ask about them during the interview process, and reward them in your surrounding C-suite team. Prioritize hiring someone in your CRO role that is:
Courageous
A CRO is brought into an organization to increase and improve revenue streams, first and foremost, but a CRO also serves the role of acting as an advisor to the CEO on all revenue-related matters. As a result, a CRO cannot be a "yes-man"/"yes-woman"/"yes-person" in conversations with the CEO. The best CROs speak truth to power without being intimidated or overshadowed by the head of sales, marketing, finance, or even the CEO. Courage is vital – the courage to explore new ideas, launch new plans, make bold suggestions, and have hard conversations.
I have found that the ability to speak truth to power in a polite, non-judgmental way has been the most critical piece to my own success. My approach with the CEOs I work with has always been to take the perspective of "You can't not want me to tell you this" in my conversations.
Innovative
Growing revenue is often not a straight line on the path from point A to point B. Creating new revenue streams and attaining sustainable growth requires innovative approaches – envisioning new ways of working and putting pieces together in new ways. Outside the box thinking is required as is being proactive to create plans that will be successful. The best CROs love change and are always seeking a better way to do things. They are open to input from others and are always looking for new inspiration.
Collaborative
A CRO is not an island – they need to work cross-functionally with sales, marketing, customer success, finance, operations, and others. They need to clearly communicate with those around them to understand the big picture and foster accountability.
Client-Focused
The best CROs are always thinking about the customer – who they are, why they buy, what their buyer's journey looks like, how they want to buy, what they expect after the purchase, and so on. A good CRO understands that they must focus on helping their customers succeed because without their success the company cannot succeed.
A Lifelong Learner
Every moment of every day new discoveries and new developments are happening. As a result, continuous learning is the backbone of a well-rounded, timely revenue strategy, which means that an effective CRO must be committed to lifelong learning.
The best CROs know what is going on in their industry, the market, and the economy. To stay ahead of the curve and beat the competition a CRO needs to be curious and be interested in learning more every day. Their learning should be internally motivated (voracious reading to stay current) and externally focused (learning from the people around them). Top CROs make the time to read, listen, and watch to everything that contributes to their ongoing professional development – to become better versions of themselves in their roles every day.
Willing to Take Risks
Business success requires a certain level of risk. CROs are calculated risk takers – they understand that it is, well, risky, and are willing to take the leaps needed to grow their organizations. Ideally, CROs will be problem-solvers by nature that do not let their fear of failing get in the way of taking calculated risks for the benefit of the company.
Growth-Oriented
A growth mindset pervades everything that CROs do professionally and personally. Whether it is learning more about your customer base or listening and learning from colleagues, the best CROs will not let opportunities pass by without finding a way to channel them into growth drivers. They reject a "the way we have always done things" mentality and are able to convince others to come alongside them to grow as well.
Intentional & Mindful
We have covered characteristics that are specific to CROs, but it is important to mention that all leaders, regardless of title, need to be purposeful. A mindful and intentional approach to leadership is essential for success. Without prioritizing balance, leaders simply cannot be successful. Self-care, rest, physical wellness, and downtime for fun are all important for leadership to incorporate into their routine, especially in high profile roles where the status quo is long workdays and constant availability. Having the discipline to keep up with all of these is difficult for any executive but omitting any of them from their priorities list will impact your CRO's ability to succeed in the role.
CROs that are "always connected" or have a "work anytime, anywhere" mentality are at a high risk of burnout. Instead of focusing solely on accomplishments and achievements, take the time to find out what is important personally to a CRO candidate to understand where they find balance and what motivates them to be successful.
If your organization needs a Chief Revenue Officer to increase and improve your revenue streams, please reach out to me. I would love to have a conversation about how an effective Chief Revenue Officer can benefit your organization!