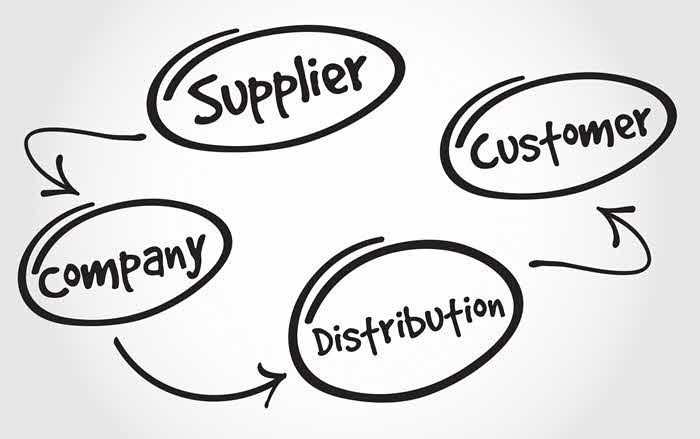 The bottom line success of your business hinges on its ability to execute the sales that will generate revenue. Developing a reliable means of reaching clients is a challenge for many sales and marketing managers. The way that you choose to communicate with clients and sell your products or services is reflected in your choice of sales distribution model. Unfortunately, picking the wrong strategy could impact your bottom line, requiring that you re-assess those missed opportunities for the sake of your long-term survival.
What is a Sales Distribution Model?
The word "distribution" might conjure up images of trucks loaded to the gills with freight, but distribution is also a sales and marketing issue. Your company's sales distribution model is the method by which it sells products and services to its target clients. In a perfect world, products and services would sell themselves. Unfortunately, this isn't reality, and you're going to have to put in some work to:
Get your client's attention.
Help customers see the value of your product or service as a solution to their problem.
Establish a level of trust with potential clients.
Make it easy for customers to say "yes" and make payment.
Ensure that clients receive their goods and remain satisfied.
Different Types of Sales Distribution Models
Before you can sell someone your products and services, an extensive amount of research needs to be done to understand their particular needs and how they prefer to do business. For example, some clients want more personalized service while others just want to place their orders and not be bothered. Some want to learn about products and place orders online, and others need customized materials and more prompting to place orders.
The two different types of distribution channels are Business-to-Business (B2B) and Business-to-Consumer (B2C) distribution. For the sake of this discussion, most sales and marketing departments struggle with finding the best strategies to connect with other business clients, or B2B marketing. The three main categories of sales distribution models are:
Intensive Distribution. Intensive distribution refers to distribution involving a lot of intermediaries. One example is printer paper. It is available through many brick & mortar stores as well as online. It has many channels of distribution.


Selective Distribution. Selective distribution refers to having just a few intermediaries. One example is office furniture. Office furniture distribution is limited to a few resources.


Exclusive Distribution. Exclusive distribution means that just a very few intermediaries (or even one) will carry the products. A recent example is the Google Pixel 2 smartphone that was released in Oct. 2017. If consumers want to own one of these popular new devices, they are exclusively sold through Verizon Wireless.
Choosing the Right Strategy to Connect with Clients
The type of distribution channel you choose will depend on several factors such as the type of products and services you have, your industry, and business model. In the past, distribution models were standardized by industry which left little to no wiggle room for entrepreneurs to innovate. Fortunately, this is no longer the case. For example, clothing manufacturers were limited to sales through department stores. Now, those same companies can choose the traditional model, sell to other retail outlets, and go directly to the consumer with online sales.
As a seller, you aren't limited to just one sales distribution strategy. In fact, choosing this path would be a mistake in most cases. Having different distribution strategies for your various clients is the best way to optimize the return on your efforts and investment. Even after you've chosen and implemented the different distribution models for your clients, it remains vital that you continue to assess your results so that you can better take advantage of missed opportunities in the future.
How You Can Best Assess Missed Opportunities
Every B2B company must make difficult decisions about where to best invest time and resources to achieve business goals. This is a tough balancing act that doesn't always find the scales tipping in the right direction. What happens, for example, when your strategy fails for any number of factors that might include poor timing, bad positioning, incorrect pricing, or ineffective promotion? There have been countless high-profile product and service failures (New Coke, The U.S. Football League, the $2 bill) and you'd probably like to keep yours off that list.
The good news is that you can quickly re-assess your strategy and make some much-needed changes provided you are willing to do the footwork and keep an open mind. Even if you are convinced that you did everything right and formed a solid ring of trust with a client, there is still a chance that they will say "no" or, worse, "ghost" you and simply go silent. For the sake of your business, it's vital that you take the next step and attempt to find out where you went astray.
If you can get into contact with one of the decision-makers at the company of your lost opportunity, ask them if they can spare a few minutes to help you improve your business. Either through a personal interview or an email exchange, whichever works best for them, ask them the following questions:
What prompted you to make your latest purchase decision?
If you chose another supplier, what made you feel good about that business?
When you evaluated our business, what were the pros and cons?
Can you name something we did well?
In what areas do we need to improve?
Is there one thing we could have done differently to change your buying decision?
The answers to these questions could help you adjust some of the activities within your sales distribution strategy going forward. There is also the possibility that you have been using the wrong strategy altogether for a certain class of clients. The more open-minded you become to accepting feedback and re-assessing your failures, the more successful you will be at taking advantage of strong sales opportunities in the future.
One of the responsibilities of a chief revenue officer is to develop a successful sales distribution strategy. We have an eBook to help you define the Role of a Chief Revenue Officer in greater depth.
The job of a CRO is more than just a glorified VP of Sales, and the free eBook offers a detailed overview of the role and responsibilities.
Free eBook:
The Role of a
Chief Revenue Officer >