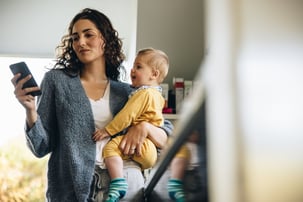 The pandemic hit many industries and demographics hard, but some shouldered the burden more than others. Women, especially working mothers, were overwhelmingly negatively affected.
In fact, the 2020 Women in the Workplace report revealed that 25% of working women and over 30% of mothers with young children were "contemplating downshifting their careers or leaving the workforce" with mothers citing increased domestic and child-care responsibilities as their primary motivation for doing so. The study summarized,
"Women in particular have been negatively impacted. Women—especially women of color—are more likely to have been laid off or furloughed during the COVID-19 crisis, stalling their careers and jeopardizing their financial security. The pandemic has intensified challenges that women already faced. Working mothers have always worked a 'double shift'—a full day of work, followed by hours spent caring for children and doing household labor. Now the supports that made this possible—including school and childcare—have been upended. Meanwhile, Black women already faced more barriers to advancement than most other employees. Today they're also coping with the disproportionate impact of COVID-19 on the Black community."
While these challenges impact women individually, the cumulative effect of women leaving the workforce significantly affects the companies they work for as well.
So, how can B2B companies keep women among their ranks and on their leadership teams?
Women in B2B
In the B2B space, the effects of women leaving the workforce are particularly salient. According to information from the Harvard Business Review, women only hold one third of B2B sales jobs, so losing them can be especially harmful.
But women are not just equal contributors. Data shows that while men make up more of the B2B workforce, 86% of female sales representatives hit their quotas compared to 78% of men at B2B organizations.
Employing women on B2B sales teams continues to be important because women are heavily represented on the buying side of the B2B purchase equation. Recent statistics reveal that in the US, 41% of roles with the power to make B2B purchasing decisions are held by women. Having women on the sales side can unlock a unique dynamic among these buyers that drives profitability.
Recruiting and Retaining Women
Last year's Women in the Workplace report explains what corporations can do to combat the employment exodus in saying, "The crisis also represents an opportunity. If companies make significant investments in building a more flexible and empathetic workplace… they can retain the employees most affected by today's crises and nurture a culture in which women have equal opportunity to achieve their potential over the long term."
In more concrete terms, companies can take steps such as:
Implementing programs to allow women to keep the career progress they have made when re-entering the workforce
Overlooking gaps in employment when making hiring decisions
Increasing paid leave allowances for sick time, vacation, parental leave, and bereavement
Providing childcare, educational, and work-from-home stipends
Allowing flexible work arrangements and schedules
Offering additional physical and mental health resources
Checking in on employees regularly
Increasing training for new hires
Prioritizing transparency in communications regarding furloughs and layoffs
Creating an "open door policy" for employees to discuss their needs and concerns
Women in Leadership Roles
Promoting and hiring women into leadership roles is an integral part of any diversity and inclusion effort. However, having women represented in the board room is not simply lip service to D&I efforts. Studies show that profits can be almost 50% higher at companies where women make up one third of executives
With this much at stake, organizations should do everything they can to get women into leadership roles and keep them there by taking actions such as:
Adjusting performance criteria
Preventing burn out by ensuring deadlines and work pace are reasonable
Encouraging a healthy work-life balance by not expecting work afterhours and on weekends
Providing mentors and additional leadership training
Leading diversity and inclusion efforts and acting as allies
Retaining top talent at your organization is just one part of a winning revenue strategy. Download the Revenue Development Action Plan for customized information on how to increase sustainable revenue amid today's new challenges.