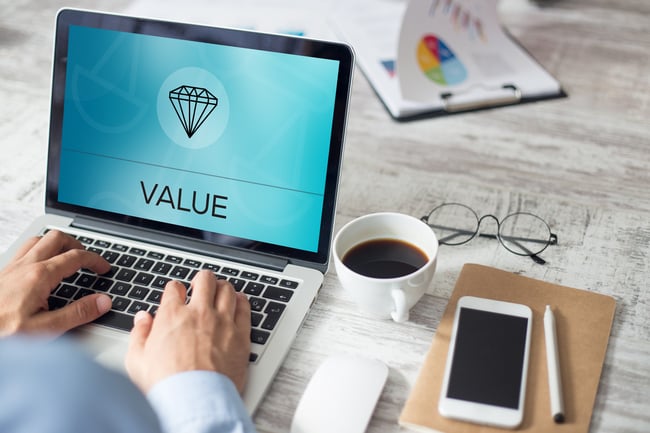 Your best client might be those that purchase your most expensive products or services. Or not.
Either way, you need to know who your ideal client is. Who are they, where are they, what motivates them to buy, when do they buy, why do they buy, how do they buy? (For help begin with the Resultist Ideal Client Persona Worksheet.)
After identifying your best current client and creating your ideal client persona, the next step is to evaluate your prospects as compared to your ideal client. This will ensure that your sales team is investing in the "right" opportunities. Our team uses the Sales Qualification Matrix.
The Sales Qualification Matrix is deceptively simple in appearance. Within its simplicity, you can focus on evaluating each opportunity against five criteria (which you select).
The key to successfully utilizing the Sales Qualification Matrix is to thoughtfully create the Five Qualification Criteria you will use to evaluate opportunities against. Typically, these are the most important characteristics of your ideal client.
Qualification Criteria considerations for a best client or customer might include:

Lifetime Value

Tenure with Company

Products Purchased

Purchasing Process
Once you have created the Five Qualification Criteria from your ideal client, you are ready to compare future opportunities.
Comparing an opportunity against what is ideal for your business can be quite revealing. Over the course of my career I have found this to be a very helpful tool. The Sales Qualification Matrix takes the 'emotionalism' out of evaluating an opportunity.
I imagine that you don't have a shortage of opportunities in your business. Determining which are the best opportunities to spend your time on may be challenging.
Identify the five most important characteristics of your ideal client.


Evaluate the same criteria for all opportunities.


Score the criteria for each prospect based on their strength within that area; where 1 is the weakest and 5 is the strongest. (As compared to the ideal client profile.)



Score new prospects based on:





Evaluate and take-action on an opportunity based on the qualifications of the prospect as compared to the ideal client.
While this provides a good rule-of-thumb on how to proceed, there are always exceptions.
Sometimes there is an opportunity that you must pursue for strategic reasons and yet when it's evaluated via the Sales Qualification Matrix, it might receive a score in the "Caution" range.
The Sales Qualification Matrix is useful in this case because it makes you aware of any shortcomings when pursuing the opportunity. It also enables you to decide on what resources and how much time to invest, especially when you are pursuing multiple opportunities at the same time.
You can expect closing rates to increase as your team pursues better opportunities and revenues increase. Instead of chasing long shots, success breeds success, morale will improve, and the company culture will evolve.
You are welcome to use our Sales Qualification Matrix. It is the same tool my teams have used for years to grow profitable revenue.