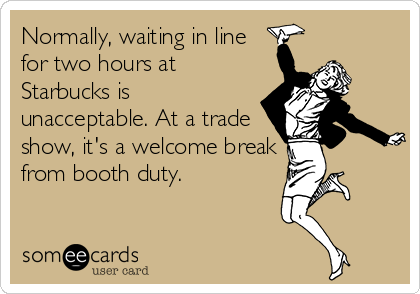 Since trade shows are an effective guerrilla marketing tool (aka weapon) where introductions and invitations are made, it is one of my favorite topics when doing presentations.
Instead of re-inventing the wheel, I have used this to get the minds thinking:
Sit in the back, watch, listen and learn.
Cajole your way onstage so you can make a slick presentation that gets everyone on their feet, buzzing and excited, eager to do business with you or hire you.
Set up a booth in the lobby that energizes and engages 12 of the people enough that they tell their friends while it disturbs or mystifies two of the others and is ignored by the rest.
Provide a service (like cookies and juice in a box at the exit) that many of the people there are appreciative of, but few remember or talk about.
It is always fun to watch faces scrunch to consider an answer. #1 and #4 seems to be "Right". #2 appears to be where the power exists.
There is another article about trade shows here.
Most marketers engaged in event initiatives claim a positive ROI from their efforts, according to a new report from Demand Metric sponsored by Attend, but ROI is only sparingly used as an event success metric. The survey – fielded among 202 marketers (68% primarily B2B) – found the average ROI for events to be in the 25-34% range. Source - MarketingCharts
---
As to this specific question: "How to get ROI from a trade show, even if you don't have a booth."
Are you referring to random luck trade shows while using psychic magnetism?
Or
Are you talking about using #2 in this blog about essentials for profitable revenue growth? http://www.resultist.com/blog/bid/353866/The-5-Essentials-for-Profitable-Revenue-Growth The foundation for participation is then based on purpose, connecting and engaging with specific people or companies.
Trade shows can be attractive because some people are GREAT at meeting new people.
"Hello, my name is," socializing, smiling with casual conversation is much easier and less risky than the next step of adding value. For those who have a skill or talent of meeting new people, It is more difficult to measure "ROI". Who records every conversation?
The people who attend trade shows walk the many large rooms are not the same (Though they certainly appear to be the same).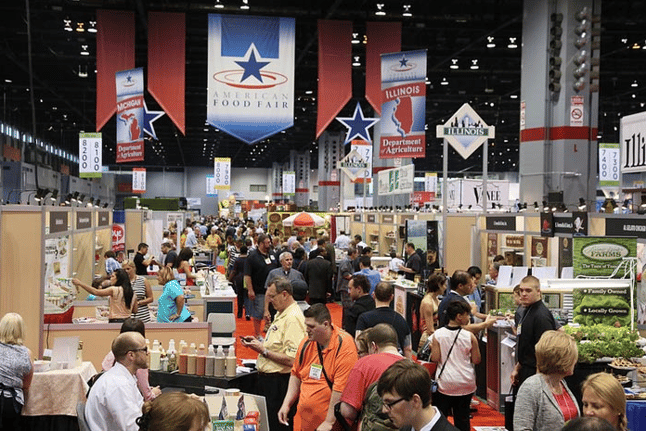 Each attending a trade show has a different world view and reason for participating. Before considering "How to get an ROI," think about the participants at a trade show and who you best serve.
Before you answer, there are many to consider:
The trade show leaders
The trade show organizers (who do the work in the trenches)
The trade show marketers
The trade show speakers, presenters
The trade show sponsors (Who pay for name attention)
The trade show booth owners
The trade show booth soldiers. (Sometimes the same as the owners)
The trade show volunteers
The trade show attendees (and then divide them to which type of attendee)

Salespeople
Competitors
Buyers
Researchers (data geeks)
Media people and bloggers
Entrepreneurs looking for new ideas
Recruiters (I love recruiting new team members at trade shows)
Job seekers (Which makes total sense)
Trade shows offer a room full of people who appear to have much in common and yet each is wearing different shoes.
Here is an idea that will work as an example (from my history):
Consider a company I am interested in working with that is participating at a trade show. By the end of the trade show, I have made their day several times. Assuming the company offers amazing products and/or services, I am also finding opportunities to introduce others to their booth with my business card to say "Tell them I sent you".
In the new world of tech:
With an iPhone in hand, we now can create content with photos and videos. Each event will present its own best opportunity for a press release, blogs, video, infographic.
A reality about human nature:
Most of the time, leaders want to invest in products and services from people who care. Once you know who you serve best at a trade show, proving your character and commitment make perfect sense.
If you are thinking "I don't want to sell products and services to people who care about whether I care," then your goal is to act like a vending machine. This is when a transaction happens by sticking money in, and product falls out. The fact you are considering a trade show is already an indication that the mission is bigger than creating transactional vending machine moments.
Funny thing about such a scenario. When people share their stories about what they bought and who they bought it from… they rarely brag about the awesome vending machine they found. They talk about others who were service heroes.
Which brings us back to trade shows.
The way to get an ROI from a trade show is to know who you serve, participate in such a way that they receive the benefit, make introductions and invitations. You could pay to have a booth but having booth soldiers stand and wait is a path to unremarkable.
Another idea:
"Own" the trade show – be the judge. Do the work and decide who qualifies as "The Top 10 Trade Show Participants". Booths, people mission, marketing, sales, service. It is a story. Ten too many? Go with five. If you are serious about your mission, you will be doing market research, writing reports and summaries, mapping out plans and making a list of who make the top of the list. You are shining up the work and putting in on display. Press release, blog, video, infographic, guest article, white paper --- they can be shared with everyone who participated (especially the top 10 on the list).
As always, awesome people are building something special at a trade show and they create a story, but go unnoticed. In the new world of media, you have the power to make an impact with clicks.
Measuring results:
New names and contact info.
How you measure success depends on the initial goal. If the objective is "meet new people", then new names, email addresses, and contact information is the objective. This can be a dollar and sense assessment. $XXX.XX cost for XXX names = $XX.XX for each name.
Since new contacts might cost anywhere from $30 to $200 (depending on the industry), the goal would be two-fold. # of contacts and cost per "lead".


Customer acquisition cost.
If you base your goal on "customer acquisition cost", you will begin to use a CRM for tracking conversations and relationship. This requires discipline.
It gets easier for those who view a trade show booth as nothing more than a place for more transactions. Get their attention, sell well and get the cash. The ROI breakdown is straight forward.
If you are a master, you already know what someone is thinking and feeling and help them each step of the way. They are going to look at budgets, options, benefits, ROI, competition, reviews and more. Purchases also force people to look more closely at what they truly want. An idea turns into a moment to reflect "What do I want and need?" Instead of waiting for them to make the next decision, become their "go-to" resource. (Both online with an awesome website and via personal contact.)
Number of Appointments.
I like measuring "how many appointments can we make". Other terms and phrases for appointment includes lunch, free estimate, free assessment, attend an event, on-site demonstration, online web meeting demonstration. X number of appointments lead to X number of sales. Coding these appointments with a capital T will make it easier to keep track, even with low tech.
The top 10.
For a B2B relationship, focusing on the top ten list and nurturing the relationships will go beyond marketing and sales. People with a mission are special and a year getting to know a team is a drop in the bucket relative to the next ten years. If a trade show is where you are hoping to create more opportunities for "win-win", an ROI may not be measured in months. Think bigger and for longer periods of time. Four trade shows per year might offer you an opportunity to focus on 40 companies. Consider it like dating. "We are just friends" to "We are going to get married" to "We are married" to "We are very happily married".
If at the end of a year you have the attention from key people at 40 different companies as a result of trade shows, good things happen. If you know how to stay connected with social media, LinkedIn, YouTube, blogging, press releases, etc., the content is shareable and others can appreciate the impact you make. Even though ROI is not clearly identified, consider other measures of success.
Does each and every activity offer an a clear ROI? Not always. But marketing without measurement is like rolling a balling bowl without keeping score with plenty of activity but no results. The goal for trade shows is valuable as a way to start, engage, serve and grow relationships.
Introductions and invitations change the world,
and trade shows offer a unique opportunity to do more.