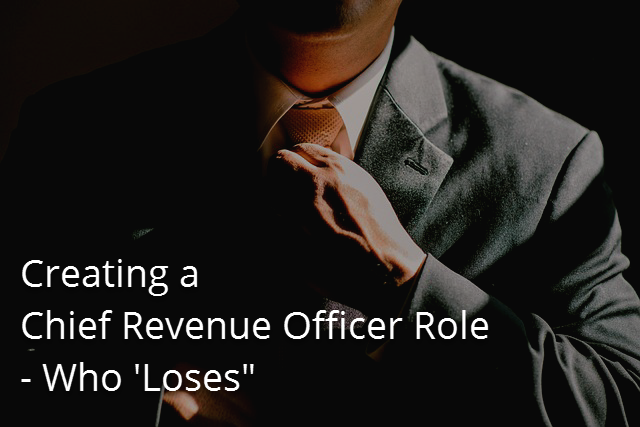 How things have changed: The competitive marketplace has been disrupted with key trends over the last several years. The disruptions and new trends require companies to create repeatable and predictable revenue that scales:
Digital products and services now offer unprecedented insight into buyers' behavior.
New sales processes and KPIs are needed with responsibilities that transcend traditional sales roles.
Omni-channel sales and increasing role of mobile and self-service in both B2C and B2B business environments challenge the traditional sales processes.
New models are needed to maximize revenue by making a serious commitment to engage customers and deliver a multi-touchpoint experience that is personalized and value-focused.
Who has their finger on the pulse of revenue growth (for both marketing and sales) across the entire revenue process – from prospects to leads to pipeline to revenue?
The person who can lead the way with a new kind of analysis and execution crucial to the business in today's business world is the Chief Revenue Officer, or CRO.
---
---
The best CROs understand the differences between marketing and sales, while establishing processes to ensure a synergy across the full revenue cycle. They are prepared to lead and manage the end-to-end revenue value chain.
The chief revenue officer combines some of the traditional responsibilities of a VP of Sales and a Chief Marketing Officer. The CRO develops strategies to drive organic revenue growth by leveraging all revenue-generating departments, including marketing, sales, customer support, pricing and revenue management.
The CRO role has many responsibilities that potentially impact a business's revenue:
Pricing Strategies: Product prices should reflect perceived market value to the extent that they generate the highest return.


Sales Performance: Sales strategies and tactics strive to sell product to the most valuable segment of the market with a goal to generate the most revenue possible.
Executive management ranks the following for sales execution in the order of importance:
#1 - Increasing win rates
#2 - Improving overall quota attainment
#3 - Increasing deal sizes
#4 - Greater visibility into what's working and what's not working
#5 - Shortening sales cycles
#6 - Closing more business, but at a lower cost
Advertising/Marketing Effectiveness: Expenses for marketing and promotion activities are revisited and refined consistently to generate the highest ROI.


Distribution Efficiency: All channels of distribution are consistently evaluated and refined to identify and develop channels that offer the most profitable means of distribution.
Companies adding a new role of Chief Revenue Officer include:
| | | |
| --- | --- | --- |
| SolarCity | Hertz | Jobvite |
| HubSpot | ChannelAdvisor | Continental Airlines |
| Coverity | Shopkick | United Airlines |
| Terminus | OwnLocal | RingCentral |
| Flowroute | Seven Corners | AxonVR |
| Vonage | Mixpo | Porch |
| INRIX | Mobivity | Unity |
| WildTangent | | |
Jeff Foland, Hertz's first CRO in January 2015, says the job is about the "scalability and synchronization" of all revenue functions. Companies without those functions "appropriately stitched together" miss out on "a synchronized and concerted effort to really move the needle on how you're going to generate incremental revenue."
Companies recognize the need for a single revenue focus and an integrated approach to marketing and sales which is embodied in the CRO role. Those interested in creating a chief revenue officer role hope to have someone in the C-suite who will:
Identify and articulate market requirements to prioritize R&D, product planning & production scheduling as well as revenue forecasting.


Advocate for investment in Revenue Management capabilities to drive organic firm growth.


Demonstrate the revenue side of the business understands what's needed in terms of returns to shareholders and growing the business, work in partnership with the Chief Financial Officer, and potentially attend investor meetings.
---
---
Heads of sales, CMOs, directors of marketing and operations teams have created somewhat territorial and even unproductive silos of activity which can distract them from the most important goal: real revenue growth.
The Chief Revenue Officer provides the perfect counterpoint to the CFO. Where CFOs are clearly responsible for controlling expenditures, CROs are clearly and singularly responsible for revenue.
A VP of Sales may feel crowded with a new Chief Revenue Officer in place. The accountability framework from Usermind is helpful as it shows a bigger picture: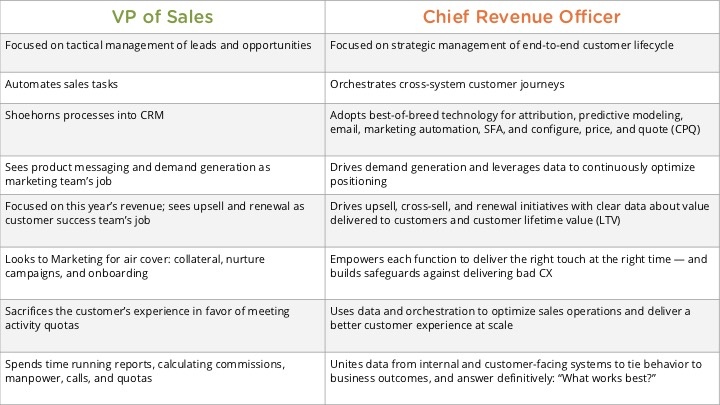 Source: Usermind
While it may appear on the surface that adding a Chief Revenue Officer to the team might not be in everyone's best interest, the CRO's role is integral to aligning departments company-wide in a concerted effort to raise revenue.
Traditionally, having a VP of Sales and a Chief Marketing Officer can lead to conflicts despite the fact that both roles have the common goal of increasing revenue. They may not agree on the approach and the metrics to improve revenue. The CRO role becomes a bridge – with both roles of VP of Sales and Chief Marketing Officer being accountable to one owner.
The CRO role may require changes to an organizational chart. This type of change may not be welcome and may create a little anxiety in some companies. By making the change, it provides precision, a consistent focus on revenue generation and is an invaluable strategic advisor to the CEO. Who may now focus on achieving the organization's strategic vision.
We believe the job of a Chief Revenue Officer is more than just a glorified VP of Sales, and the free eBook offers a detailed overview of the role and responsibilities.
Free eBook: