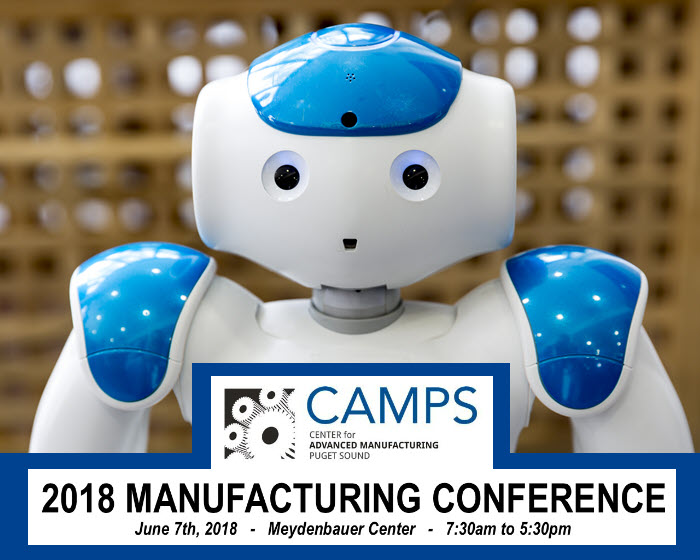 The upcoming CAMPS Manufacturing Conference on June 7th is expected to be one of the best yet. With over 200 expected to attend, the conference will present practical applications to use current technology now, not 'someday' in the future. I am especially interested in the keynote where Bill Hill will give an overview of IoT used in manufacturing. Of course, the robot demonstration will raise some eyebrows, but don't be expecting a "Lost in Space" robot.
The annual CAMPS Manufacturing Conferences are quite unique, and I have a great appreciation for the value they bring. I will be attending and am looking forward to this year's conference. You are welcome to join me there. CAMPS membership is not required to attend. Here are some of the details:
2018 MANUFACTURING CONFERENCE
June 7th, 2018
7:30 am to 5:30 pm
Meydenbauer Center
11100 NE 6th St, Bellevue, WA 98004
INNOVATING FOR OUR FUTURE
Innovative Products, Processes, and Technologies
Technology is driving manufacturing to new heights and the conference will highlight these four primary areas:
How IoT (Internet of Things) is already reshaping manufacturing
Robotics and automation are creating workforce changes and improvements in efficiencies
AI (Artificial Intelligence) is providing a basis for gathering and analyzing information to drive improvements and market competitiveness
Full supply chains are better connected than ever before
The Conference will open with a general session introducing IoT and end with a general session presenting a "virtual" IoT application/solution. These sessions demonstrate the power of CAMPS to facilitate the technology, and the technology itself - how it's used and how it offers new revenue potential and cost savings. These sessions will be presented by Elevat and Xemelgo.
The luncheon keynote features Universal Robots, demonstrating their cost-effective, flexible, safe, and easy-to-use Collaborative Robots "Cobots" that give businesses greater control. "Cobots" don't call in sick or quit without notice, get bored or injured, or take too long to learn a new process. "Cobots" are helping to bridge the skills gap in manufacturing operations ranging from small and mid-sized companies to huge multinationals.
Keynote Speakers
Throughout the day
Attendees will attend three break-out sessions providing crisp and leading-edge information. Six breakout session choices will be offered:
Blockchain Applications

Anthony Hargraves & Ron Rausch, Clark Nuber

Human Systems Top Grading

Michael Langout, Gazelles International

SMED - Single Minute Exchange of Dies or Quick Changeover
Future Technology Innovations for Manufacturing
Artificial Intelligence in Manufacturing

Adnan Siddiqui, Principal

Visualization Software to Maximize IoT Value
Reception & Networking Follow
Immediately following the afternoon general session will be a hosted Reception and Networking exchange.
Registration is open to everyone
Questions?
If you have questions, you can contact me, or you can contact Stacie Buchanan at CAMPS. Stacie's phone number is 253- 226-7671 or send an email to stacie.buchanan@camps-us.com.
I am a proud member of CAMPS and you are planning on registering, please let me know you will be attending. If you are new to CAMPS, I am happy to introduce you to other members. I am confident you will find them both inspiring and a valuable resource.