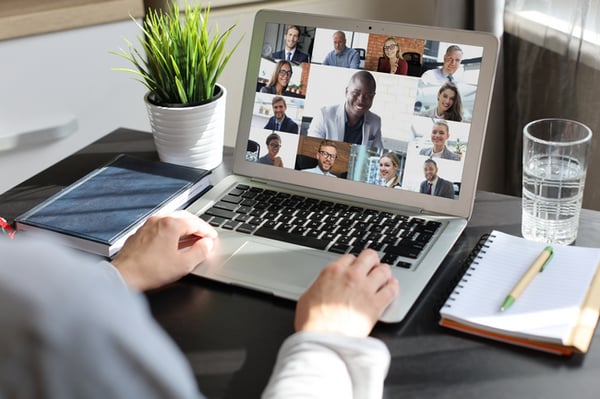 A study on remote work from Xant summarizes its findings in saying,
"Sales teams are facing unique challenges – not only are they working from home, but their customers are too. They are adjusting to remote work, fighting distraction, and also facing an out of sight, out of mind mentality with their leads and potential customers."
In fact, their research reveals that sales teams are reporting their top challenge right now as the "inability to communicate or connect with customers."
But salespeople are not alone.
Remember, anyone meeting someone new right now is doing so virtually.
Everyone is in the same boat trying to navigate making virtual connections with new people both professionally and personally. And while some have felt natural, like messaging potential collaborators over social media, others have not, like going on a first date via video call.
Our current normal has changed how we connect with new people. For introverts, this shift has been a welcome change, whereas extroverts have typically found it harder to adapt. However, removing the in-person aspect of making a new connection does not change the reasoning behind connecting in the first place.
Ultimately, the methods to meet new people may have changed, but why we connect is still the same. New introductions require a genuine desire to offer something of value, listening, nurturing the connection, and following-up, whether the relationship is sales-related or not. The people that aim to engage, understand, and build trust will succeed whether they are connecting with other people online or offline.
Plan your virtual business networking strategy for the rest of the year with a focus on your goals for connecting and a service mindset towards new connections. To network and make new connections in our current normal of virtual meetings, utilize these four proven approaches:
Join Online Groups
Facebook and LinkedIn offer easy opportunities to connect with other people who share like interests, but they are certainly not the only options available. You can also join professional associations or local business groups and attend virtual meetings. Consider joining a larger national association as well to leverage virtual meetups across multiple areas to make connections in new places.
Be selective with the groups you join to avoid stretching yourself too thin. Remember, networking is not signing up for any group you come across – it is showing up and actively participating to offer other members value. Being a warm body in the (virtual) room does nothing to expand your network or benefit the group.
If you want to join an expert-level group and cannot find what you are looking for, start one of your own instead! Build your own mastermind group to bring a few high-level professionals together to share about and bond over a specific tool or topic.
Collaborate on a Project
Never approach networking with the goal of getting a sales lead or finding a collaborator – build the relationship first instead of asking for business right away. Instead of bringing an engagement ring to the introduction, start with a bouquet of flowers.
If you find someone you might like to work with introduce yourself authentically and start a conversation and determine if there is a good fit. If there is, propose a collaborative effort but approach the ask with a service mindset. Focus on what you can offer someone else first and what they can offer you second.
Ask yourself, "What are my assets that others will find valuable?"
and "What are the assets that I am looking for?"
Amma Marfo echoes this sentiment when she says,
"People love getting mail that isn't bills, especially if those messages aren't spam. After all, it's always nice to know that your work is appreciated! So, if you have… a blogger or columnist whose pieces resonate with you, send them a letter! Now, it's not a given that this piece of fan mail will yield an offer to work together. In fact, it's pretty likely it won't—but they do have the potential to start a relationship… Relating on a professional and personal level could uncover commonalities that would be a natural fit for a joint project."
Reach Out
Right now, there is a strong focus on "getting out there and networking" but this mindset overlooks the most important group of people to your business – the people you already know. Reach out to your existing network to ask how they are doing, find out what they need, and just to say hi.
Al Pritchard, the Global Trade Director for Mining at Export Development Canada, explains it best when he says,
"For me, work feels like one of the few things I can currently control. The ability to talk about something I know very well is kind of a relief from the chaos that is outside right now and, after connecting with many professionals in my network over past couple of days, I think many of you will agree. Touch base with your clients, peers and contacts to see how they're doing, talk business and simply connect. In a time where social interactions are limited, a phone call or email is often welcome."
Have an Event
Let people see you in action demonstrating your knowledge and skills. Conduct a webinar or host a virtual happy hour. You certainly do not have to be a pro at hosting virtual events to get value out of connecting with people at these types of get togethers. There are plenty of resources on how to host a virtual event for you to learn from when you are first starting. And remember, the only way to get better is to keep practicing, listening, and learning.
Get Charitable
Connecting with people over shared charitable interests is a strong way to make meaningful personal and professional relationships. Get connected with a charitable organization – economic development association, Rotary, or a special interest group. If you are already a member of one of these types of organizations, you can increase your involvement level by sitting on a nonprofit board.
If virtual networking still seems daunting, remember that at least networking online saves you from having to maintain eye contact with these eight classically annoying networking personas or having to "master the awkward networking waltz."
How Can I Help You?
One of my favorite networking questions is, "What do you need help with today?" Being able to help someone not only builds the relationship but has the added benefit of making me feel better when I know that I've helped someone solve a problem or find a new resource.
So, what do you need help with today?
Let's connect.