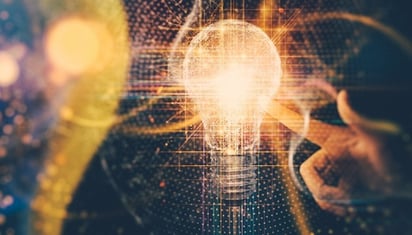 "Thought leadership" has officially found its place in the content marketing buzz word hall of fame. With more brands trying to become thought leaders, there are now countless resources on how to become a thought leader (some better than others!). But what many of these resources fail to address is why thought leadership is so important these days and how to rise above the noise.
Thought leadership is about more than just being known for your opinions or being seen as an expert on something. And it's certainly more than a shiny badge you can put on your homepage or tout on your social media profile. Thought leadership fills the pipeline, drives conversions, increases the average lifetime value of a customer, and helps recruit top talent.
Want proof? Consider the following statistics from the 2021 Edelman B2B Thought Leadership Impact Study about how thought leadership drives purchase decisions:
42% of buyers invited an organization to bid on a project that was not in their original consideration set of companies after engaging with their thought leadership content.
48% of buyers awarded business to the organization responsible for the thought leadership piece they engaged with during the decision-making process.
However, thought leadership does not simply influence a buyer's initial purchase. It also encourages future purchases. These additional statistics tell the story of how thought leadership can be used to upsell current customers as well:
53% of customers increased the amount of business they did with a company when that company published thought leadership content
54% of customers bought a new product or service that they were not previously considering because the company they were working with was viewed as a thought leader
Are You a Thought Leader?
Clearly being a thought leader is a valuable achievement. So, how do you know if you are a thought leader yet? Ask yourself the following questions:
What do you rank first for on Google?
How many LinkedIn followers do you have?
How many people subscribe to your blog?
How often do people reach out to thank you for the work you do?
Do people introduce and refer you to others?
These indicators all signal that people value the work that you do. Therefore, as you establish your thought leadership, they should increase in response. You should begin to see:
More leads
Increased sales
New job applicants
More deeply engaged employees
Decreased employee turnover
Let's take a closer look at how to be a thought leader and how to make the business case for investing in thought leadership activities:
How Thought Leadership Drives Sales
Thought leadership is often seen primarily as a marketing activity, when really it should be viewed under the lens of not only marketing but also sales, support, and human resources. Establishing your brand as a thought leader in whatever space you occupy will build greater:
Trust in you, your company, and your offerings
Brand awareness to increase sales and attract top talent
Engagement with your employees to increase employee retention
The reality is that people do business with people that they know, like, and trust. Thought leadership helps in each of these areas by making you and your brand better known, more likeable, and more trustworthy, all of which help to drive sales.
Key Thought Leadership Characteristics
Thought leaders act like people (not just faceless companies) and exude experience, wisdom, and passion in a way that is authentic. They listen well and drive conversations that offer insights and provide value. Thought leaders look at best practices and are not satisfied – they want to come up with better ones. They know how to take an idea and put it into action.
The Thought Leadership Formula

So, how do you do thought leadership the right way? The key to being a thought leader is being curious. You need to adopt a lifelong learner mindset and follow these steps:

Developing Effective Thought Leadership Content
To be a thought leader someone must be aware of your thoughts, which means you need to convert your thinking into action forms like writing, speaking, videoing, and presenting. In his article "How to Identify a Wannabe Thought Leader" James O'Brien quotes advertising analyst, Rebecca Lieb, when she says "Like achieving academic tenure… thought leadership requires a continuum of wisdom, accomplishment, and a body of published work that stands the test of a degree of time."
Use the following steps to create thought leadership content:
Find your Expertise & Passion
Think about what you know. Consider where your skills and expertise are currently. Within those arenas evaluate what you are most passionate about.
Determine Who You Want to Reach
Envision your audiences and where they will find you. You likely have a range of audiences, including customers, prospective customers, employees, prospective employees, maybe a board of directors, and perhaps even an advisory board. How will you reach them? Will it be blogs, LinkedIn, email, presentations, YouTube, or somewhere else? Plan to be where they spend their time (both professionally and personally).
Leverage Tools
You already know how to use plenty of powerful technology and probably have it at your fingertips right now. Smart phones can take great pictures and manage voice recordings. Your company website, websites of associations and organizations that you belong to, and LinkedIn all provide great platforms for being heard. SlideShare and online meeting platforms like Zoom and GoToMeeting allow you to present to your audiences with relatively flat learning curves. Lean on these tools to make your work easier.
Use Your Existing Content
Instead of reinventing the wheel, repurpose the work you are already doing. Turn your existing content into an email, PowerPoint presentation, or speaking engagement.
Become Known
Once you have done the work, take action! Post your content on your company blog or ask another site to feature it as a guest piece. Send it to an association or organization you belong to or support and ask them to post it. Share your content on LinkedIn. Create a YouTube channel and post your videos there. Send these resources to your customers or employees (or both!) in a regular newsletter. Get the word out and encourage sharing to maximize its reach.
Next Steps
Getting started does not have to be scary! Use these simple steps to get organized and start your journey to becoming a thought leader:
Create a folder in your inbox for thought leadership resources. When you receive a great email, put it in there. If you read an article that sparks your thoughts about an area you are passionate about, forward it to yourself and put it in that same folder. If you have a lightning flash of inspiration, type out a quick email and send it to yourself.
Then, schedule 30-45 minutes with yourself at the same time each week to go through your thought leadership folder. Use the ideas you have stored to get writing or recording. Edit and refine your thoughts and ask others to look at them as well (hire an editor if you need to). And then run with it!
But First, A Warning!
The pandemic has created a flood of B2B though leadership content online. As a result, 71% of decision makers say that less than half of the thought leadership they consume gives them actionable insights. For your thought leadership content to be considered valuable practice the three P's – show persistence, demonstrate patience, and write about your passion.
Practicing the three P's means that your thought leadership content will teach your audience something they didn't already know. Go beyond the trends to provide them with actionable insights that help them in their businesses. It will stand out from the crowd by being presented in a way that's unique, whether that's through a helpful article, video, podcast, or collaboration to help you rise above the noise.
Every day I work with companies that need help developing thought leadership content and aligning it with their business goals. If you need help becoming a thought leader in your space as well, please reach out to me! I would be happy to discuss how you can create effective thought leadership content to better serve your audience.