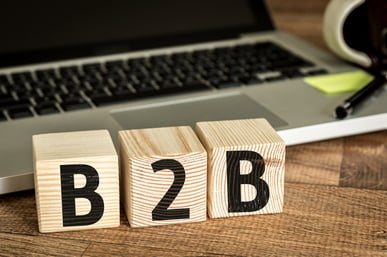 While new B2B sales trends have emerged over the past two years, it's safe to say that we have now moved past "pivots" and temporary adaptations to what can only be described as a B2B sales revolution. An entirely new era of B2B sales has taken shape and is continuing to evolve, transforming everything from go-to-market strategies to strategic revenue planning at B2B organizations across the globe.
Buyers' priorities and preferences have changed requiring that sales strategies adapt to keep pace. Understanding this, well-informed B2B companies are rethinking who they sell to, how they sell, and where they sell. The sales planning changes that have resulted both internally and externally are a clear indication that there is a new face to B2B sales these days. How will that fact shape what you do next?
Find out what you need to know about B2B sales in 2023 with this guide:
Understanding your Audience
Selling effectively has always relied on knowing who your audience is but now more than ever B2B sales teams need to understand how their audience makes buying decisions and how they want to buy.
B2B buyers these days largely want to conduct their business online when they are ready instead of needing to go through a sales rep to make a purchase. The result is a strong preference towards remote and self-service sales models. In fact, 71% of B2B buyers indicate they would be willing to spend more than $50,000 in a single self-service transaction and 27% report they would be willing to spend $500,000 or more, which is not all that surprising considering two thirds of buyers last year opted for remote or self-service sales options over traditional sales models.
But even among these more autonomous buyers, B2B companies will need to decide whether their sales strategy should target buyers or end users. This is one area where leaning on data analytics can help determine who to approach, when, and with what. Predictive analytics may be the key to staying competitive, but the insights they provide need to be sophisticated enough to account for ongoing market changes and economic fluctuations.
Hybrid Selling
As the Partners and Associate Partners at McKinsey & Company explain in an article on B2B hybrid sales, "Hybrid selling—initially an adaptation to the pandemic—is expected to be the most dominant sales strategy by 2024 due to shifts in customer preferences and remote-first engagement." They go on to explain that more than 90% of sales organizations plan to keep the hybrid-focused strategic changes that they have made over the last year. Why? Consider these B2B hybrid sales statistics:
70% of companies surveyed feel their hybrid sales strategies are more effective than their pre-pandemic sales strategies and 22% feel they are as effective as before.
Hybrid sales drive as much as 50% more revenue than traditional sales because remote sales reps can reach four times as many buyers in the same amount of time when interacting digitally
Simply put, how you structure your sales strategy needs to reflect the fact that hybrid is here to stay!
Omnichannel
Today's B2B buyers want more channel options, greater convenience, and a personalized experience to address their specific needs. As a result, omnichannel selling has become of paramount importance. Today's B2B buyers are using an average of 10 channels to interact with sellers while making their purchase decision, up from 7.5 channels pre-pandemic. This is yet another reason why hybrid selling is so important. Today's B2B sales reps are expected to be in more places than ever before, and hybrid selling allows them the flexibility they want while doing so.
Digital Collaboration
Ask anyone and they will tell you that it is really hard to get people together these days. One of the things that buyers appreciate most about hybrid selling is that they can get the answers they need faster to inform their purchase decisions without any lag.
People are so used to getting the information they are looking for immediately that they now expect the companies they are doing business with to provide the same rapid response. Subsequently, this is now a crucial part of customer relationship management for both sales and support teams. With a hybrid selling model buyers have almost real-time access to product and service subject matter experts instead of having to wait to have their sales rep travel to them to provide the information they want. This is a refreshing change for busy buyers who already feel overscheduled.
But digital collaboration is not simply reserved for the sales-client relationship – it can also pay huge dividends among sales staff and leadership by fostering better transparency, alignment, and resource sharing.
Digital tools that bring people together like they were in the office are only getting better each day. For example, whiteboards are available now in Zoom. (Of course, many professionals had already been doing this with PowerPoint and other tools, but video platforms are finding more ways to embed these types of technologies into their platforms.) Break out rooms are becoming more common with video platforms as well – providing a more elegant solution than leaving the "official meeting" to join the "after-meeting meeting."
Encouraging greater collaboration and deeper connections among employees is critically important for more than just sales strategy effectiveness – it is increasingly vital to maintaining connectedness among employees to inspire them and add purpose to the work they are doing. As a global B2B sales study by McKinsey & Company explains,
"Employees are on the move. Times are uncertain amid fears of inflation and recession, and people are looking for meaning in their jobs as well as financial compensation. As companies now have to focus more on offering customers expertise-driven and personalized buying journeys, the need to attract and retain talent has become more important than ever."
Sales Personnel
Today's B2B sales reps must be able to illustrate how their product or service will improve a buyer's bottom line to be effective, which requires a different approach than simply discussing its features and user benefits. So, modern sales teams must not only have more technical skills than ever before, but a stronger financial savvy as well. As a result, new questions are emerging (or maybe old questions are being revisited) for sales leadership, such as:
Does our sales team have the skills needed to succeed in this new selling environment?
Where should we be upskilling or reskilling sales reps?
Is sales leadership modeling these skills and committing themselves to growing in these areas to lead by example?
Of course, these kinds of strategic personnel questions have financial implications to consider as well, like perhaps:
Is offshoring our sales functions an effective way to reduce costs without compromising growth?
What should sales incentives look like now? Are quarterly or annual incentives still effective or should incentives now use multi-year targets to encourage a more customer-centric approach and greater ownership over the relationship?
When you are ready to build more profitable revenue in the new world of B2B selling, please reach out to me! I would be happy to schedule a time to discuss your business goals and current sales strategy to identify areas for improvement. Find out how we can work together to develop a more effective sales strategy for your B2B organization.