Lunch & Learn - Data and analysis on the state of the manufacturing sector.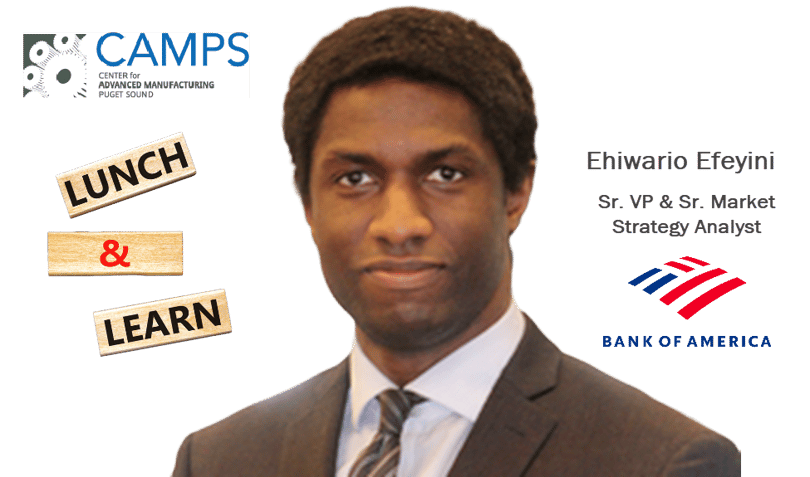 Enjoy a complimentary lunch on Wednesday, February 8, 2023 as Bank of America economist Ehiwario Efeyini provides us with a variety of data and analysis on the state of the manufacturing sector. Center for Advanced Manufacturing of Puget Sound is hosting this special event to shed light on industry trends.
When:
Wednesday, February 8, 2023 from 11:00 AM to 1:00 PM PST
Agenda
11:00 - Networking
11:25 - Grab Lunch & Find a Seat
11:30 - Speaker/Sponsor/Session Intro
12:45 - Q&A
1:00 pm - Adjourn
Where:
Clark Nuber
10900 NE 4th Street, Suite 1400
Bellevue, WA
– Get Directions
Attending this event will give you the data to:
Make strategic decisions about

… the direction of the company and allocate resources accordingly.
… production levels and inventory management.
… sourcing and supplier management.

Identify trends in consumer demand and adjust strategies accordingly.
Make projections about the company's financial performance and plan for future growth.
Presented by: Ehiwario Efeyini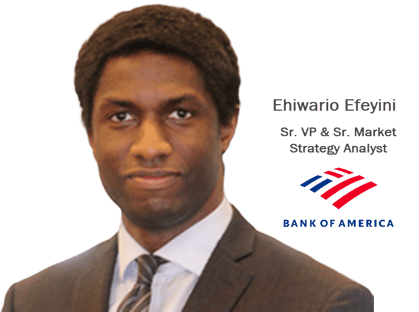 Ehiwario Efeyini
Sr. VP & Sr. Market Strategy Analyst
Bank of America
Ehiwario Efeyini is flying in from New York to present data and analysis on the state of the manufacturing sector. Mr. Efeyini is well known and travelled the country:
Ehiwario has traveled the U.S. as a Speaker:
NCEDA 2022 FALL CONFERENCE
Asheville, NC
Financial Executives International Event
The CFA Society of San Diego
Jim Cramer's "TheStreet" Bootcamp
Panel for EDC of Seattle and King County's
46th Annual Economic Forecast Conference
https://vimeo.com/263589099
You may have seen presenting at:
Americas Society & Council of the Americas AS/COA
Ehiwario Efeyini is a senior vice president and senior research analyst within the Global Wealth & Investment Management division of Bank of America. In this role, Efeyini is responsible for the analysis of global economic and financial market trends, in support of economic forecasts, strategy and tactical asset allocation decisions for investment professionals and high-net-worth clients. He is a regular contributor to the Investment Strategy Overview, Capital Market Outlook, and Market Focus reports.
Prior to joining Bank of America, Efeyini was a market strategist with J.P. Morgan Asset Management. He holds a degree in Economics and Management from Oxford University.
Who is this for?
Senior Management, Sales & Marketing Teams, Finance & Accounting, Production & Operations, Supply Chain & Procurement.
Complimentary Lunch

for CAMPS members.
Non-Members are welcome! $25.00


(Note - no-show fee $25)




Join Elizabeth and other industry leaders:
You can register here:
www.resultist.com/manufacturing-economic-outlook-2023


If you plan on attending, please reach out to Elizabeth Harris with a note to let her know. She will want to connect with you!
-- by email: info@resultist.com
-- by phone: 206-361-4562
-- Or with this form >