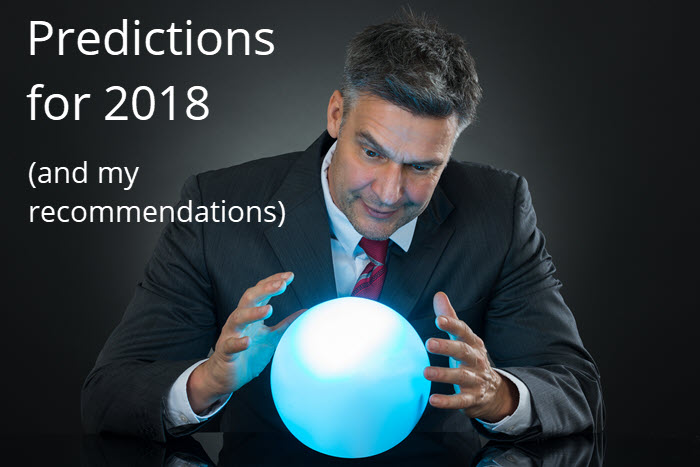 I believe it is important to start working on next year's strategy about four months in advance of the new year. By doing so, you have enough time to make an impact on the last quarter and lay the foundation for the next fiscal year to start well. If you find yourself working on your 2018 strategies now, don't delay - there's still time to complete them.
Have you seen the predictions for this year? Some are wild and crazy, and others astound me.
Predictions:
Based on the many predictions, the coming year could be catastrophic or will include incredible transformations. I especially appreciated the crystal ball predictions on

Inc.com by Christina DesMarais.


Vendhq.com offers

retail predictions

and refers to 'chore shopping' and 'cherish retail' along with relying on robots and other trends.


NBC.com has five science and technology predictions for 2018. Robots will become more emotional, cryptocurrencies will be --- big --- or crash (depending on which experts you talk to.)

The video

on NBC.com also predicts the space race will intensify and augmented reality will become more mainstream, (which means we may all be wearing Terminator style AR glasses.) Significant breakthroughs in genetic and molecular biology are on the horizon in 2018. This science will change how we interact with computers and deal with human viruses.




TheStreet.com has predictions about Amazon. Apparently, Amazon rates their own specific prediction list.


On Forbes.com, Andrew Klausner shares predictions about the economy, politics, justice system and world peace. If you are easily rattled, you may want to skip his predictions.


More earthquakes

are expected, the someone has

wild predictions about the Seattle Seahawks,

and

Nostradamus's

predictions for 2018 are more worrisome than hopeful.


The World Economic Forum has a new 80-page Global Risks Report which is a compilation of risks to global business. It was compiled with the help of business, government, academic, and other stakeholders around the world. The report is worth a read and you can

get it here.
What astounding predictions have you read about? Please share in a comment below or contact me directly here.
Hopefully you won't be expected to the impossible: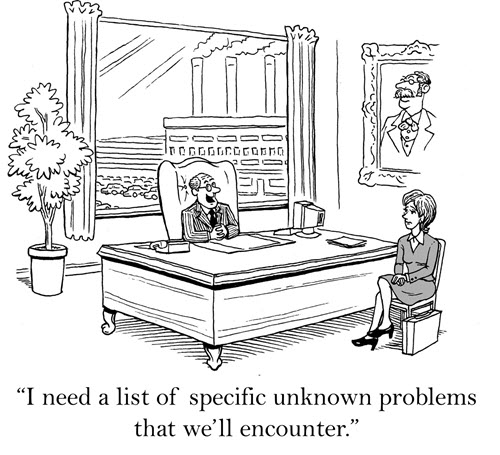 Regardless of the predictions, now that we are in the first quarter, it is beneficial to review any plans that were made to see if they continue to have merit.
The best recommendations vary, depending on what phase your business is in.
If your business or leadership has any of these characteristics:
Your organization relies on an

entrepreneurial culture.

You are concerned about declining revenue and market share.

You are in an industry where technology can potentially make your business obsolete.

Your competition is consolidating which is creating fewer but much larger competitors.

Your customer base is shifting to a younger audience with different purchasing habits and different communication methods.
...then here are my top recommendations for you to consider:
Live your brand

For many companies, revenues will increase when everyone has increased passion about their jobs, the company, and the products.



Adjust perspectives and culture – "Everyone" is in sales.

Revenues will increase with a team who thinks 'sales' as they make it easier for customers to buy and receive their products and services.

Remember to implement a process for everyone to make suggestions, and get feedback. Employees are at the core of business success and increasing employee appreciation and recognition pays in a new world of multi-generation teams.



Hold a monthly executive team meeting focused specifically on revenue generation.

Revenues will increase with the improvements generated and completed through consistent meetings and accountability in each meeting.



Change the responsibilities of your key leadership to reduce or eliminate repetitive tasks.

Revenues will increase when your leadership is more focused on the areas where they can contribute the most value, and overall morale will improve as they are led to better results.



Improve accountability for "project completion" rate.

Revenues will increase with better follow-through and follow-up. 'Accountability' requires tracking of time usage to ensure that time is spent on primary responsibilities and working in other areas is secondary to those primary responsibilities.



Improve communication and collaboration between the operational and creative departments.

Revenues will increase with better communication. Evaluate timeliness of progress, what needs to be re-prioritized and adjust timing, and approach as necessary.



If one does not yet exist, add e-commerce functionality to your website.

Revenues will increase with 24/7 online ordering capability, customer account visibility, and updated digital brand image.

An omnichannel experience is now expected as the buyers are younger and have new purchasing habits.



Add a Community Manager to the team, someone responsible for engagement and personalization.

Revenues will increase with consistent online, social, community interaction and promotion by creating demand in the relevant communities.

The type of person, their role, the platforms and tactics will vary based on your type of business.



Identify and select potential re-sellers to meet the changing marketplace.

Be prepared to provide re-sellers and affiliates with marketing materials to support their customer's experience.

Improve ease of ordering, account management, and customer service (all 24/7) through online e-commerce portal for re-sellers or affiliates.
While your specific business may not yet be ready to implement (or benefit from) these recommendations, I suspect that at least a couple of these recommendations apply to you. Which of these recommendations stand out for you Friend?
What's missing: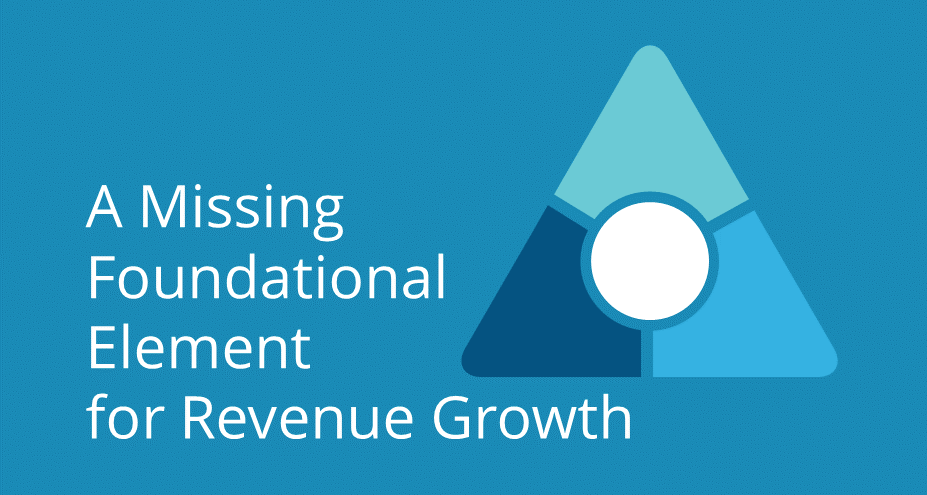 There is one thing I find missing in many organizations and I posted an in-depth article yesterday: "A Missing Foundational Element for Revenue Growth". It may be missing in your business.
I hope the predictions, recommendations and tips on how to be effective with strategic planning get you leaping forward in 2018.